Religious Paradox
Religious Paradox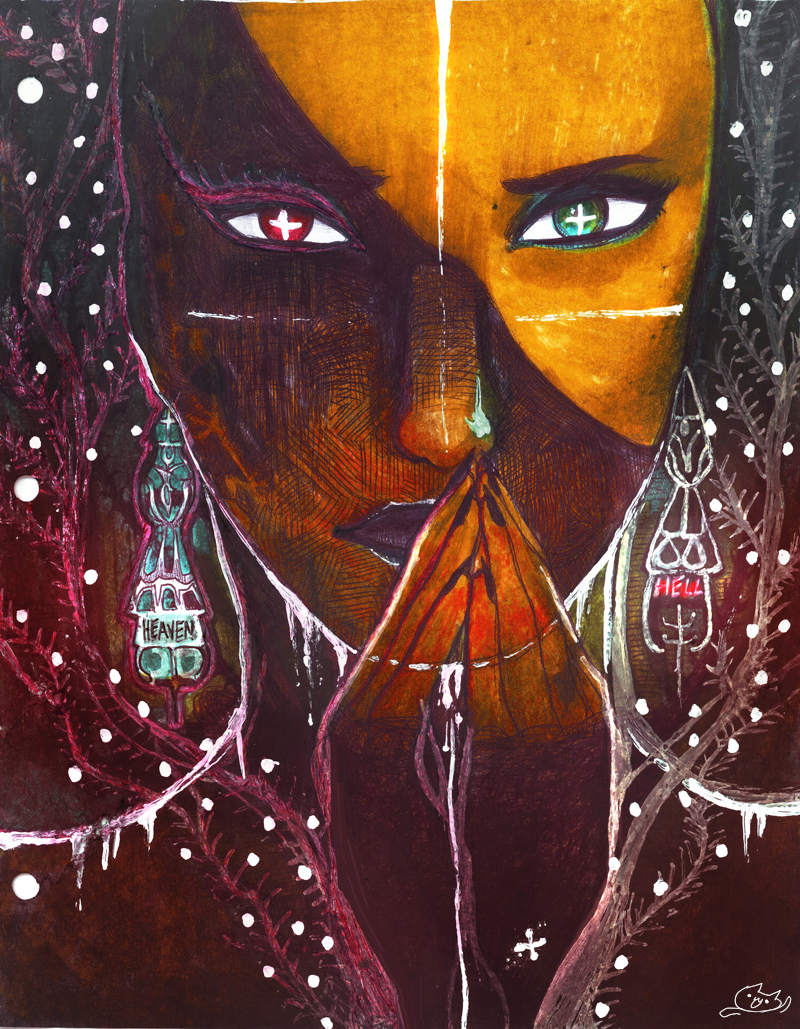 Description
Religious Rant:
(do not read if you are religiously sensitive)
I recently listened to the
Prince of Egypt - The Plagues
song, and despite how BRILLIANT and well-written all the songs in the movie were, it flashed me back to when I was a child and thought the story of Moses was true. At around 11 years, I wondered how unfair it was for RAMESES to be taught to be a prideful pharaoh along with his loved adopted brother, and then his brother runs away, comes back, and destroys his whole empire with the claim that his brother has wronged his people and needs to let go of the tradition that Rameses's family had undergone for years. Moses basically stabbed him in the back after he realized he was one of the Hebrews. I understand the moral and story was good, but that irking feeling I had...how hypocritical. After killing an Egyptian slave-master, one of "his" people, Moses runs away from his troubles, meets his Hebrew people in the desert, realizes he is one of "them" now, and after having a divine FREAKING BURNING BUSH hallucination/message from God, goes back to Egypt with a "Sorry I ran away without any explanation. I am here to ruin your empire." Ramses still loved his brother when Moses returned while I felt Moses himself came back for his Godly mission, like his biblical role was the thing barricading his heart from truly admitting his personal wrongs/sins.
Why did the movie portray Rameses as the ignorant and ill-tolerable one that Moses had to maturally speak with like an adult to a child? He had every right to wonder where Moses had been, why he did not come home, and why he was so "different." Not only did Moses in the movie never actually have a deep conversation explaining everything to his brother, but it was like Moses only saw Ramses as "one of the people who have enslaved my people." I sensed such bias and loss of brotherly affection- it was so unrealistic. I am basing this off the movie, but I hope to God the biblical story actually had some decent explanations. The fact that Moses had divine intervention was an instant Game Over to me- like he was already right and there was no way Rameses could have won him over or even compromised. Either he let his whole rule crumble with the loss of his largest work force (Hebrew slaves), or he lets his adopted brother who he had not seen in years threaten him with unbelievable plagues. If I was an Egyptian leader, I would have done the latter too. Moses, in the song "The Plagues," says:
This was my home
All this pain and devastation
How it tortures me inside
All the innocent who suffer
From your stubbornness and pride...
Egypt WAS your home? Before, you were so proud to be apart of Egypt with its strong history, and you loved your royal family. They treated you as their own. All of a sudden, you treat it like this "home" is a thing of the past, something you could push farther away and replace it with a picture of the people that enslaved your people. -The "innocent that suffer" because of RAMESES's stubbornness and pride? YOU are the one that let the 10 Plagues come onto Egpyt. Technically, you are the one that threatened/was the pathway for it- why does everyone around you have to die while you STAND THERE SAFELY saying mature things like "Oh, if only you were not so prideful. Then, this would not happen."
In return for the safety, peace, freedom, and prosperity for his Hebrew people, he would threaten (and go through with) the starvation, plague, hail, darkness, and killing-of-first-borne of the Egyptian people.
HYPOCRITICAL PIECE OF SH*T.
Sorry. Just really had to get that off of my childhood mind. I am actually really tolerant and respectful of religion, but sometimes the popular biblical stories I hear...make me want me to bite bears' ears.
[align=][img]http://img571.imageshack.us/img571/355/mosis.png[/img][/align]
___________________
*smiles innocently* Drawn with black ballpoint pen, yellow highlighter, orange highlighter, blue highlighter, red permanent marker, white-out pen, and Photoshop dodge and burn. The hands are quite small, sorry! I drew it first, and I misjudged the proportions of the face. I truly apologize to anyone I offended!