SHINee: Jonghyun
SHINee: Jonghyun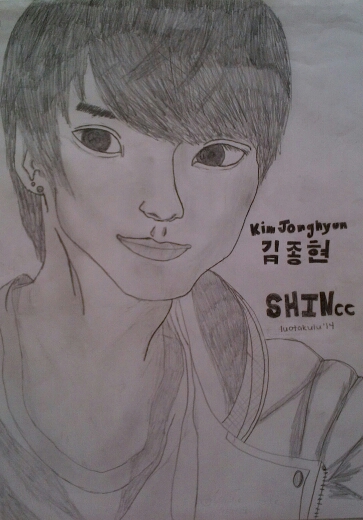 Description
A drawing of my favorite Korean pop-star, Kim Jonghyun. I drew this on May 4th, 2014; it is my first official realistic-like drawing I've ever drawn (Whee!). 

The picture quality is terrible, and I apologize. I took the picture using a mobile device camera and used a photo editing app to brighten the look a bit.

If you would, please offer me some constructive criticisms so that I can further work on my drawing skills. I know that many mistakes can be clearly seen; such as his nose. It is very small for his face and the shading on his hair is not quite as professional. The dark blurs you see around his neck and shirt, those are graphite blurs that I attempted to create to make it seem more realistic.

Disclaimer: The model I used to draw, Kim Jonghyun, is a member of the SK-pop band, SHINee, which is managed under SM Town/Entertainment. I do not claim anything other than my own fan art drawing.