SHINee: Jonghyun 2014
SHINee: Jonghyun 2014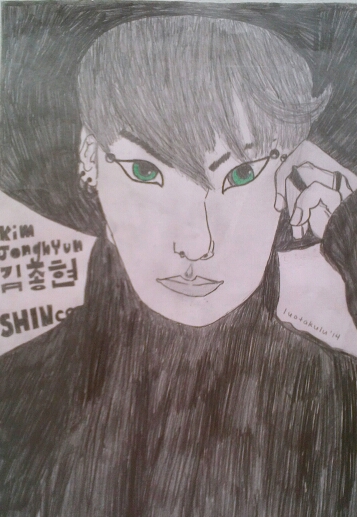 Description
A second drawing of my favorite Korean pop-star, Kim Jonghyun. I drew this on May 21st, 2014; second official drawing.

Again, if you'd like, please offer me some constructive criticisms. I know I messed up on his left eye; he was wearing green-ish contact lenses on the reference picture and I ruined the look while sketching. And of course, my coloring is always the same. Es muy horrible. The clothes he's wearing with the other members were from their latest song, "Everybody". 

Disclaimer: The model I used to draw, Kim Jonghyun, is a member of the SK-pop band, SHINee, which is managed under SM Town/Entertainment. I do not claim anything other than my own fan art drawing.