Slayers: The Invincible Duo
Slayers: The Invincible Duo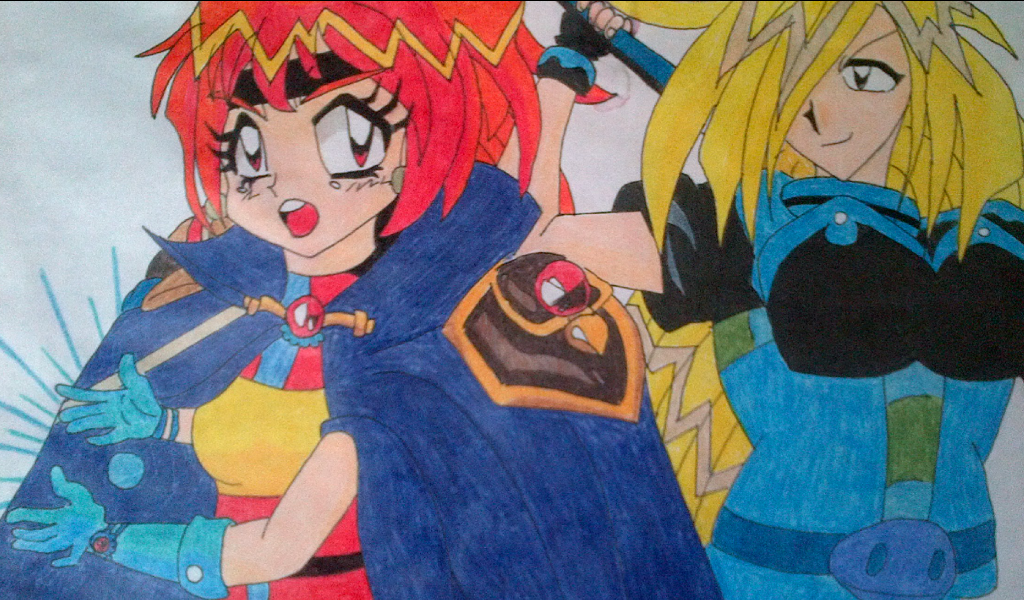 Description
A colored drawing of main protagonists, Lina and Gourry, from the anime, "Slayers".

It took me several days to finish this, what with the sketching, laziness to ink, and huge amount of coloring. The short color pencils I used are now just stubs. Oh boy.

Once completed, I became lazy and didn't want to upload on here. Meh. What a pig I am. Haha? And with the surprise that some people like it- whoo!

UPDATE 11/2/14: It got onto the "Popular Pictures" section! OH YEAH. I have no idea how it got there, but 'thank you' to the people who checked it out and said it was cool!!

UPDATE 11/11/14: Sometime earlier than this date, it got booted off the "Popular Pictures" section somehow. Oh no. Wellp. I'm just glad it made it through a few weeks, standing up there with a feline zombie hunter. :D

UPDATE 12/1/14: WHOOOAA. Ninety-seven views already?! Yay!! Thank you all, for the viewing and support. I couldn't be happier.

Disclaimer: The anime/manga, "Slayers", is written and illustrated by Hajime Kanzaka and Rui Araizumi. I do not claim anything other than my own fan-art drawing.
General Info
Comments
5
Media
Colored Pencil / Crayon
Time Taken
Several days
Reference
"The Slayers" VHS movie covers (2)