Azure Starr (Adopted OC)
Azure Starr (Adopted OC)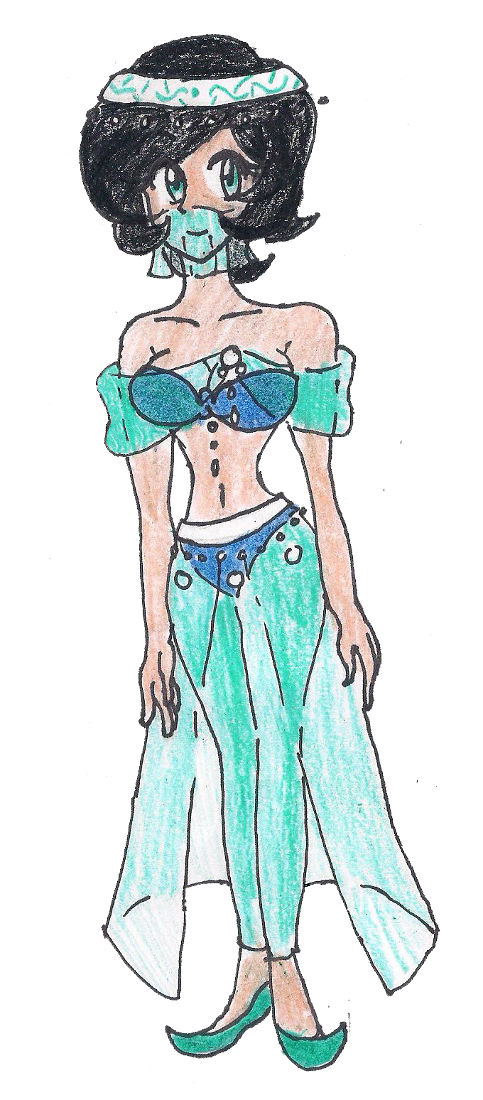 Description
(Note: I did not make this. This is only temporary until I draw her myself. The character was designed by
LilacPhoenix
on dA whom I adopted it from, so I'm allowed to put it up as I own her.)
Name: Azure Starr (prefers to be called Starr)
Age: 19
Birthday: August 27th
Home: Unknown, but claims to come from an oasis town (Possibly Phenac City in Orre, but nothing's been set right now)
Hair: Short, black
Eyes: Turquoise
Occupation: Traveling belly dancer
Pokémon: Dragonair (shiny)
Starr is part of a small traveling group who have come to Kalos during their world tour. She performs a special belly dance based off the move Dragon Dance with her shiny Dragonair. However some time while in Kalos, Starr decided to leave the group and travel on her own, promising to return with new dance routines.
During Starr's childhood, she lived isolated in a small town in the middle of a desert, and was home schooled until she was 11, so she found it hard to meet others her age. She also never really got to meet any Pokémon because of the climate, but she then was given her Dratini upon her 12th birthday. In fact, it was her Dratini that inspired her to try dancing as the Pokémon liked to use Rain Dance a lot and when they played, Starr would imitate Dratini which made her parents thought she had an interest in belly dancing. So they moved to a bigger town and she enrolled in a dance school, where she got her dancer costume upon graduation. She does have more costumes but she prefers her signature azure veils.
Starr herself is not much into battling but her Dragonair has two attack moves in case she has no choice, sometimes even using them in her dance routines. Her Dragonair knows Rain Dance, Dragon Dance, Aqua Tail, and Dragon Tail. She doesn't like to battle though as she does not want her Dragonair to evolve.
As for other clothing, Starr wears either a deep blue long sleeve shirt (for cooler temperatures) or a white t-shirt with a star, and tight pants with simple slip-on shoes. As for Starr's first name Azure, she was given it due to her eyes being as bright and blue as the clear summer sky. She rather herself be called by her last name Starr at age 8 cause she felt it fit her better.
Starr (c) me
pic + design (c)
LilacPhoenix
General Info
Comments
0
Media
Colored Pencil / Crayon
Time Taken
Reference