BbS Cover Ideas (SUGGESTIONS PLZ)
BbS Cover Ideas (SUGGESTIONS PLZ)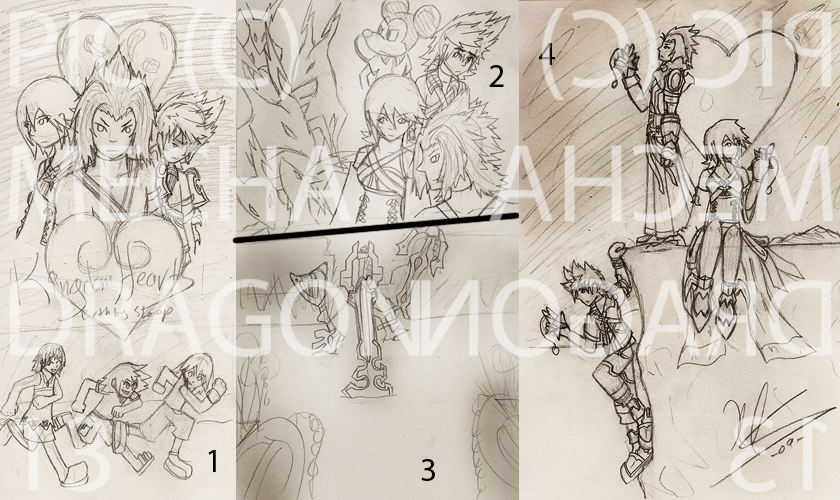 Description
yeah, i watermarked the SH*T outta this one. Critic got me paranoid. DARN YOU, CRITIC. *shakes fist*

but yeah. I've been meaning to make a fan-cover for Birth By Sleep since the english cover art hasn't been revealed yet (if they even change it from the japanese one, which i really, really like ._.)

SO HERE WAS WHAT I WAS THINKING FOR EACH OF THESE:

1- I was trying to include the Sora-Riku-Kairi trio as well as the Terra-Aqua-Ven trio, and this was what came out. BbS logo goes in the middle, SRK running around the beach at sunset, TAV with the KH Moon behind them.

2- Tried to do something like the japanese cover, but i decided to add the Unversed into it. it's less action-y too ._.

3- BASED OFF CRITIC'S IDEA! thank you vewwy much, friend. TAV's keyblades stabbed into the crossroads at Sunset Horizons. there was supposed to be more stuff above that, but idea 2 stole that spot ._.

4- Tried to go for something like KH1's cover, but failed. I kinda like this one more than the others, even though i have no idea why Ven's hanging off the cliff ._. might move him somewhere else later.

HERE IS WHAT MISH NEEDS YOU TO DO. Mish needs to know which idea is the best and why, or if you feel mixing and matching elements from each idea would make it even better. if your idea is the one i use and i'm satisfied with it, i'll make you a gift!! :D so plz plz VOTE!!!
General Info
| | | | |
| --- | --- | --- | --- |
| Ratings | | Comments | 24 |
| Category | Games » - by Publisher » Square-Enix » Kingdom Hearts series | Media | Graphite pencil |
| Date Submitted | | Time Taken | can't remember |
| Views | 1377 | Reference | pics of TAV, SRK kids,keyblades, & unversed |
| Favorites... | 0 | Keywords | kingdom, hearts, birth, sleep, sora, riku, kairi, terra, aqua, ven, ventus, unversed |
| Vote Score | 1 | License | Berne Convention |