The Diva and the Detective (draft)
The Diva and the Detective (draft)
The Diva and the Detective (draft)
by
misk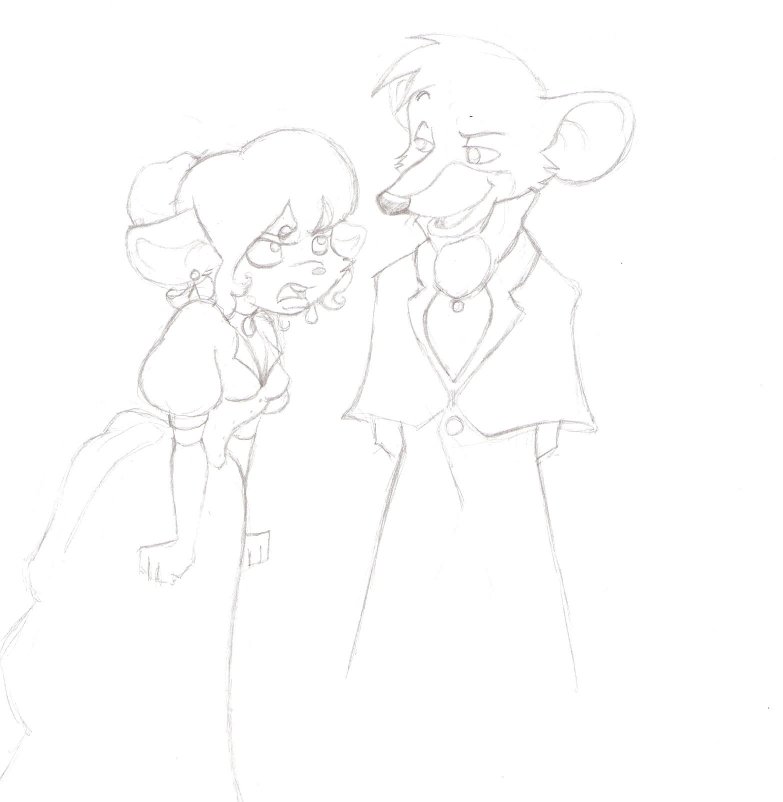 Description
a sceen from the first meeting of the Diva an the Detective, from the fan fiction "Basil of Baker Street and the London Phantom"

"Mister Laurence, you know I do not permit anyone to be in the house when I am rehearsing" a sharp voice cut into there conversation as the opera manager stiffened visibly. The three looked up to find the pail diva glaring down at them from the lip of the stage. "Forgive me Madam Bernard, but permit me to introduce Detective Basil of Baker Street and his associate Dr. David Q. Dawson."

For a long moment the woman looked down at the two newcomers with a mixture of confusion and disgust. "I see" she managed after a moment in a low drawl, her cold glare shifting from them to the mouse who called himself her manager. "Mister Laurence. I believe I told you I wasn't going to buy into any of this nonsense." Basil glanced at the manager, one thin eyebrow slightly raised. Mr. Laurence looked helplessly from the famous opera star to the detective and back again, apparently at a loose.

"Madam Bernard, I must insist…" he began, walking to the lip of the stage and looking up at her almost pleadingly. "Given recent circumstances, it would be in your best interest if…" she raised her hand, and immediately the other fell silent. The very presents and power this woman commanded was nothing less then impressive, overwhelming to say the least, and Basil cared very little for it. He continued to watch her with a critical eye as she made her way down a set of stares to join them in the orchestra pit.

Her eyes were now fixed on the famous detective, looking him over more closely, a slight scowl on her face. Finally with a snort she folded her arms but not before one slender gloved hand reaching up to brush a rebellious curl of brunette hair back into place. "You are far more gangly then I imagined detective…" she began, in an almost condescending tone. "For a mouse of your reputation I was expecting someone with a little more presence." She offered him a polite, though clearly hollow smile before turning and beginning to make her way back up the steps to the stage once more. Basil gritted his teeth before taking a labored calming breath.

"Well I must say Madam; for someone with a reputation such as yours I did expect you to be at least relatively on pitch." The Diva froze mid-step; spinning around slowly to glare daggers at the detective and his associate. "I beg your pardon" she answered slowly. The tone was innocent enough, however there was a venomous quality to the words as if they were intended to kill rather then beg for any form of pardon, be it metaphorical or otherwise. Poor Mister Laurence looked helplessly from one to the other, desperately trying to interject but absolutely terrified of being caught in the impending crossfire. Doctor Dawson was, of coarse no happier with the predicament, but he was the first to find his voice. "Basil, I believe it is best if we were on our way, clearly we are…"

"Oh I do apologies…" Basil began, cutting off the doctor, his own voice matching the Divas mask of civility almost to perfection. "You see, I was quite sure you were aware of the fact that you came up flat on the third and forth trills after the bridge..." The three men watched as Madam Barnard's face turned bright red, a look of surprise quickly replaced by one of absolute rage. "Do you know who I am detective…" she hissed dangerously, taking another step towards the taller mouse. Basil nodded, his polite manor not faltering for a moment. "But of coarse Madam, and therefore you must understand my surprise to hear such a faulty chord." The woman simply glared at him, struggling to remain composed. "Who do you… why… you… Renee Bernard does not make such mistakes…" she blurted out, clearly flustered. Basil simply grinned "Well now, if that were true then I'm afraid I must ask for a proper introduction when next we meet. Good day madam, Mr. Laurence."

Renee Barnard's mouth simply dropped as Basil gave her another curt nod farewell and turned, making his way up the row to the exit at the back of the house, a content smile playing at the edge of his lips. Dawson hurried to follow, glaring up at Basil in pure shock. "Wh-what the devil was that" the good doctor managed gesturing back at the infuriated Dive who had clearly found her voice once more and was screeching something dreadful about the 'intolerable incompetent excuse for a detective'. "Nothing Dawson" Basil soothed under his breath, clearly quite amused with himself. "nothing more then what a creature like that deserved." Dawson risked a quick look back at the infuriated woman and the poor opera house manager who was trying everything in his power to calm her. The two exited the back of the house, the sounds of screeching hysterics following them out.
General Info
Comments
1
Media
Graphite pencil
Time Taken
Reference