going to hogwarts: autumn has come
going to hogwarts: autumn has come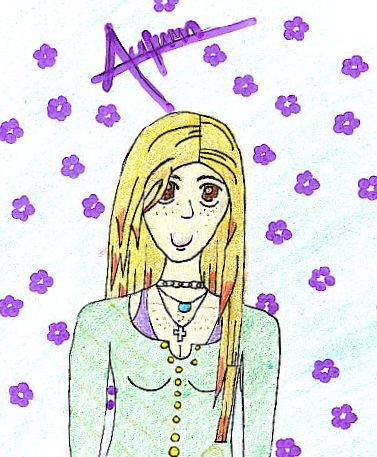 Description
i seriously hope that this is still open! this really isn't the best pic... i'll do another one soon of her in her uniform.

I've received an owl from hogwarts! wootwoot! finally...

name: autumn grace block

age:13

year:3 (same as everyone else, right?)

house: grryfinndor (yes, i took the quiz)

fave characters: sirius, neville, ron, snape, hagrid

best friends: neville, ron, harry, ginny

subject: care of magical creatures, dance class

crush: neville, ron

status: half witch, half genie

coutry: USA

school: Savannah Academy for the Endowed

likes: art, dancing, music, writing, crayons, toast!!!, books, rain, bright colors, neville chaise lounges, her freckles, and fire

dislikes: hermione, that she excels in potions, humidity, emo-ness, poridge, the Fat Lady, roaches, cold, uniforms

Autumn is an exchange student from the US that comes to hogwarts to teach a dance class on saturdays. Bright, bubbly, very smart. Considered a "bohemian" back at home. Dripping with southern charm, with a very thick accent. Best friends with Neville, whom she secretly is in love with. Being a genie, she can move from place to place by summoning the summer wind. Unlike disapparting, winding is not block by the enchantments of the castle. Having a bad sense of direction, she tends to end up in odd places when she tries to use her power. when she found out grryfinndor was going to be her host house, she died her tips crimson.


and there you have it! i hope that you're still accepting entries!

p.s. this is also doubling as a picture of my OC autumn from my fanfic. although, she is older and the description wouldn't be the same. but this is what she looks like, more or less.
General Info
Comments
3
Media
Colored Pencil / Crayon
Time Taken
1 hour
Reference