Senki(My Fursona) Anthro Form
Senki(My Fursona) Anthro Form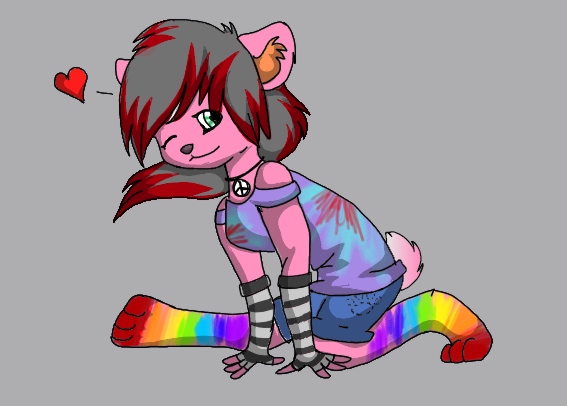 Description
Heh I recently got a new Fursona, and this one's to stay!*dances* just a little about her:
Name: Senki
Age: Timeless(About 14 in appearance)
Gender: Female
Breed: Mountain Lion/Scene cat.
Orientation: Asexual
Anthro Clothes: *=Optional. T-shirt, short leans with ebroidered paw Print, *Flip-flops, Peace sign Choker/Necklace, *Skull hair clip, Black and white striped finger-cut gloves.
Anthro Appearance:Light Pink fur. Bangs and Ponytail(Gray-ish black with red highlights). Rainbow legs. White tipped tail.
Quad Appearance: Hot pink fur. Black and hot pink stripes on her front paws, but white front paws. Gold bracelets on her left front paw. A peace sign necklace. Bangs and a ponytail(Gray-ish black with red highlights). Rainbow Back paws. White Paw print on the butt. White tipped tail.
Likes:Guys, music(Mostly punk, like Avril Lavigne, Kerli, ect.), Acting.
Dislikes: Stupidity, 'all that' people, twilight(no offense).
General Info
Comments
2
Media
Digital drawing or painting
Time Taken
40 minutes
Reference
for markings