Nicktoons SplatSlimeStars A.D.S.
Nicktoons SplatSlimeStars A.D.S.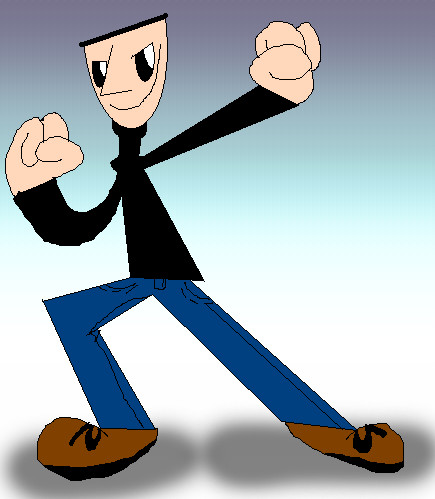 Description
With a large arsenal of weapons and skills, A.D.S. comes back to the SplatStar arena for the third time.

A character who's got more balance than a scale, A.D.S. is an all-around fighter whose hammer that packs a punch.

Basic Attacks:

A - Right Punch
A+A - Left Punch
A+A+A - Extendable Headbutt
Side A (while dashing) - A.D.S.-in-the-box
Side A - Spinning Kick
Up A - Dual Flip Kick
Down A - Pithole Punch

Slime Attacks:
Side A (smash controls) - Power Punch
Up A (smash controls) - A Swift Kick in the Butt
Down A (smash controls) - Clean Sweep Kick

Aerial Attacks:
A - Hover Hand Punch
Forward A - Buttbutt
Backward A - Reverse Headbutt
Up A - Head Over Heels
Down A - Tornado Drill

Throws:
Up - Meteor Smash
Forward - Anime Strangle
Backward - Backdrop
Down - Somersault Steamroller

Special Moves:
B - Slimeball - Pretty much the same as Mario's or Natsume's Fireball.
Side B - Hammer - A.D.S. swings his hammer. When used in the air, it will propel him forward. Also good for deflecting projectiles.
Up B - Magic Punch - Turns into Magic A.D.S. and punches the opponent, making coins appear from his hat. It's also A.D.S.' third jump (or in this case, his sixth jump.) Works like Mario's Super Jump Punch.
Down B - Red Ruby Transformation - A.D.S. turns into his favorite comic book superhero, The Red Ruby. See The Red Ruby for moveset.

Tether Recovery: Fishing Pole or Tounge

SplatSlime Move:
Sonic Scream - A.D.S. releases three waves from his vocal cords. Note that the waves will only get bigger as it moves farther from A.D.S.' mouth, so take big leaps if A.D.S. fires this at you.

Taunts:
Up - Waves at you.
Side - Eats a waffle gleefully.
Down - Nods his head, looking worried, and then sits down while he hangs his head in shame.

Entrance:
A.D.S. comes in the stage via Transportopod, comes out, saying "Let's do this!"
General Info
Comments
1
Media
MS Paint
Time Taken
Reference