Nicktoons SplatSlimeStars Pikachu
Nicktoons SplatSlimeStars Pikachu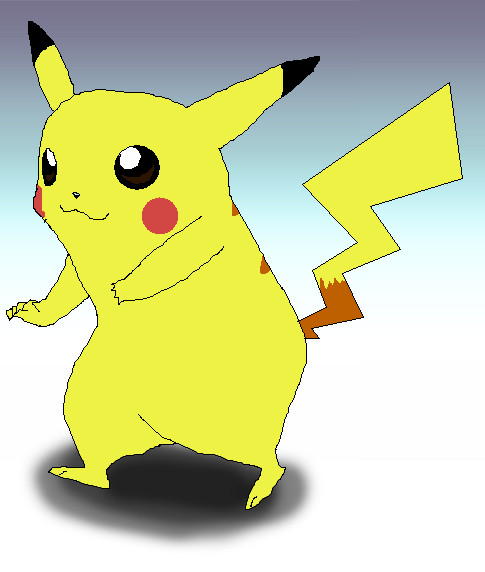 Description
"With perfectly round cheeks and a jagged tail,
this can only be that most familiar of Pokémon, Pikachu!

It may be small and agile, but its electricity gives it powerful attacks.
It's what you would call an all-around character."

-Smash Bros. DOJO!!

Normal Attacks:
A - Headbutt
Side A (while dashing) - Running Headbutt
Side A - Super Headbutt
Up A - Lateral Kick
Down A - Spinning Hit

Slime Attacks:
Side A (smash) - Shock Shoot
Up A (smash) - Tail Throwing
Down A (smash) - Tail Spin

Aerial Attacks:
A - Pikachu Spin
Forward A - Shock Flip
Backward A - Backward Spin
Up A - Flip Kick
Down A - Descendent Electric Headbutt

Throws:
Up - Headbutt
Forward - Power Pack
Backward - Tumble 'n' Throw
Down - Body Slam

Special Moveset:
B - Thunderjolt - Throws a lightning beam that moves in the direction that it was thrown.
Side B - Skull Bash - Pikachu rams forward with tremendous force. It's simular to Luigi's Green Missile, only without the chance of a misfire.
Up B - Quick Attack - Pikachu moves with amazing speed in two directions in which the control stick was pushed. It does little damage. Also works as a third jump.
Down B - Thunder - Pikachu calls out a cloud from above. It strikes down thunder from it, either hitting a platform from above Pikachu or hitting Pikachu itself. If it hits Pikachu, an explosion will occur around it.

SplatSlime Move:
Volt Tackle - Pikachu transforms into a ball of light. Pikachu can fly around at great speeds while attacking opponents in the 10% to 20% ratio. Take care not to be off the stage once this ends, though.

Taunts:
Up: Charge Crouches and emits electricity. May reset forward smash damage unconfirmed.
Side: Waves with one hand, then the other, saying "Pika, Pikaaa!" in each direction (same as in Melee and SSB).
Down: Lies on the floor, yawns a drawn out "Pi-kaaaa" while stretching and stands up.

Entrance:
Comes out of a Pokéball.
General Info
Comments
2
Media
MS Paint
Time Taken
Reference