Nicktoons SplatSlimeStars Danny Phantom
Nicktoons SplatSlimeStars Danny Phantom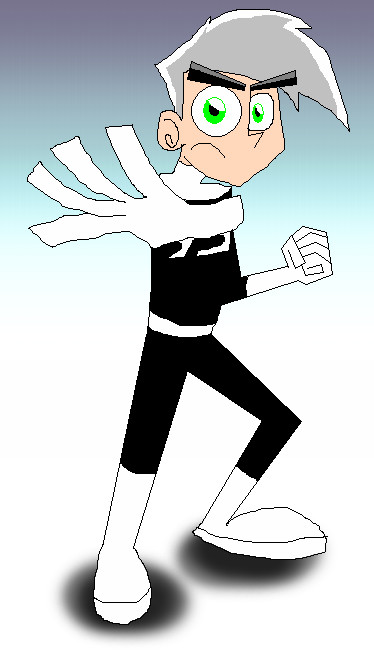 Description
Half human, half ghost, Danny Phantom comes back to the Nicktoons SplatStar series with little trouble.

He''s equipped with many powers and abilities of a wide variety. Knowing how to use them is the first step to victory.

Normal Attacks:
A - Left Punch
A+A - Right Punch
A+A+A - Wind-up Punch
Side A (while dashing) - Cold Shoulder
Side A - Spin Kick
Up A - Lateral Kick
Down A - Lower Kick

Slime Attacks:
Side A (smash) - Phantom Punch
Up A (smash) - Banshee Bash
Down A (smash) - Specter Sweep

Aerial Attacks:
A - Aerial Kick
Forward A - Spiral Kick
Backward A - Butt Slam
Down A - Ectoplasmic Stomp

Throws:
Up - Blast Away!
Forward - Football Punt
Backward - Thermos Blast
Down - Stomp

Special Moveset:
B - Ghost Ray - Danny fires a ghost ray at his opponents. Note it can be charged before use.
Side B - Overshadow - Danny overshadows an opponent and does damage to the one he''s possessing.
Up B - Phantom Uppercut - Practically the same as A.D.S.'' Up Special Move, only without the Nicktokens.
Down B - Intangibility - Danny becomes intangible and makes him immune to attacks.

Tether Recovery: Ectoplasmic Goo

SplatSlime Move:
Mega Blast - Danny fires a very large Ghost Ray at his direction. However, because of the sheer power of the ray, he''ll revert to Danny Fenton. See Danny Fenton for moveset. Works like Samus'' Zero Laser.

Taunts:
Up - Turns into Danny Fenton then back.
Side - Shows his fist as it teems with Ghost Energy.
Down - Takes out his Fenton Thermos and aims it left, then right.

Entrance:
Comes in intangible, then shows himself.
General Info
Comments
3
Media
MS Paint
Time Taken
Reference