Nicktoons SplatSlimeStars Mikan
Nicktoons SplatSlimeStars Mikan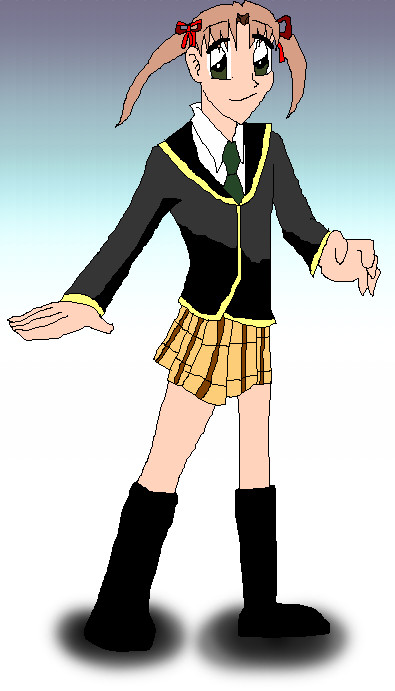 Description
Like Natsume, Mikan is in a high school uniform. She also seemed to be aged as well.

Ever since the events of Mikan v.s. Shadow Mikan, among others, Mikan has developed a fighting style no one has ever seen.

Normal Attacks:
A - Right Punch
A+A - Left Punch
A+A+A - Right Kick
Side A (while dashing) - Belly Flop
Side A - Lateral Kick
Up A - 180 Degree Kick
Down A - Soccer Kick

Slime Attacks:
Side A (smash) - Nullifying Punch
Up A (smash) - Pole Swing
Down A (smash) - Sweep Kick

Aerial Attacks:
A - Flipping Out
Forward A - Spiral Kick
Backward A - Reverse Spiral Kick
Up A - Back Flip
Down A - Dash Kick

Throws:
Up - Table Throw
Forward - Dead Body Toss
Backward - Mikan Bomber
Down - Trample Over

Special Moveset:
B - Stealing Alice - Mikan uses her Stealing Alice to steal one's Special Moveset, thus rendering the victim unable to use his or her Special Moveset. If Mikan taunts, she will give up the stolen moves to the victim.
Side B - Nullifying Alice - Mikan creates a shield which can deflect projectiles.
Up B - Mr. Bear Swing - Mr. Bear appears from who knows where to whack Mikan upward with his ax. If used on the ground, Mr. Bear will wander around the stage. Also works as a third jump.
Down B - Shadow Mikan Transformation - Mikan transforms into her evil future counterpart.

SplatSlime Move:
Nullifying Slash - The user's hands glow with a white aura and flicks their arms with all their might, releasing a force shaped like an X.

Taunts:
Up - Trips then gets herself back standing.
Side - Mikan's face changes moods as she moves her right arm pass it.
Down - Mikan dribbles a volleyball as she grins evilly.

Entrance:
Falls to the stage and lands flat on her face.
General Info
Comments
2
Media
MS Paint
Time Taken
Reference