Nicktoons SplatSlimeStars Vexus
Nicktoons SplatSlimeStars Vexus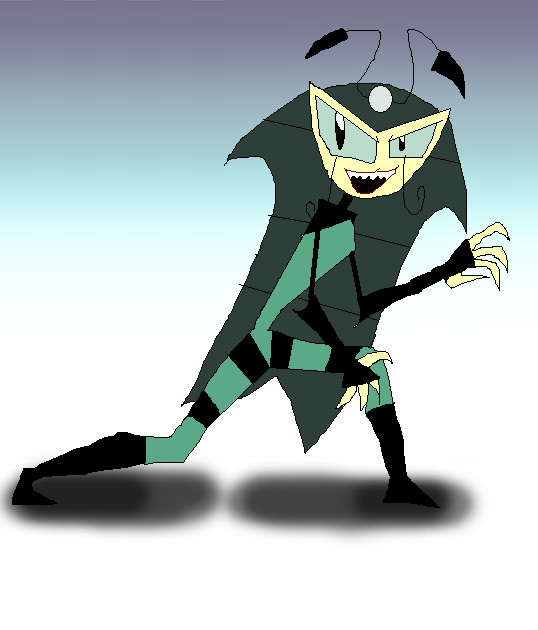 Description
Vexus is the primary antagonist of the Nicktoons series, and no doubt A.D.S. and Jenny's arch-nemesis.

Vexus is one of the "heavyweight" fighters. Maybe it's because of the thing on her head.

Normal Attacks:
A - Right Punch
A+A - Left Punch
A+A+A - Right Kick
Side A (while dashing) - Slide
Side A - Power Punch
Up A - Uppercut
Down A - Crouch Kick

Slime Attacks:
Side A (smash) - Shell Lunge
Up A (smash) - "Antenna" Poke
Down A (smash) - Shell Spin

Aerial Attacks:
A - Duaerial Kick
Forward A - Slap Swat
Backward A - Back Kick
Up A - Flip
Down A - Vexus Vortex

Throws:
Up - Banishment Toss
Forward - Drop Kick
Backward - Stinger
Down - Shell Stab

Special Moveset:
B - Cluster Claw - Vexus stalls for a second and slashes forward. Can be charged.
Side B - Shell Shield - Vexus covers herself with her shell, causing little damage while retreating. Can be used to deflect projectiles.
Up B - Pounce - Vexus takes a great leap, causing great damage as she lands. Can be used as a third jump.
Down B - Unepic Fight - Vexus tackles the opponent and she and the opponent start rolling around humorously.

SplatSlime Move:
Disrupting Doom - Vexus places a lot of disrupters on the stage, causing the opponents unable to move.

Taunts:
Up - Laughs defiantly.
Side - Points a finger almost immediately, as if executing an order.
Down - Holds an A.D.S. figurine and then crushes it.

Entrance:
Comes out via Cluster Portal.
General Info
Comments
1
Media
MS Paint
Time Taken
Reference