Nicktoons SplatSlimeStars Timmy
Nicktoons SplatSlimeStars Timmy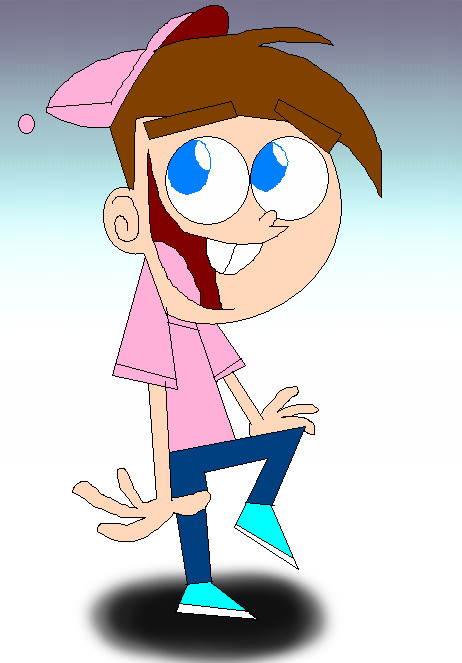 Description
The second banana who's always clamoring for the spotlight, Timmy makes a triumphant return!

This time around, Timmy's Up Special Move, The SlingStar, can now give him a boost in his jump.

Normal Attacks:
A - Right Kick
A+A - Left Kick
Side A (while dashing) - Running Headbutt
Up A - Uppercut (came from Yomi)
Down A - Stubby Kick

Slime Attacks:
Side A (smash) - Wand Smack
Up A (smash) - Jumping Headbutt
Down A (smash) - Spin Kick

Aerial Attacks:
A - Timmy's Kick
Forward A - Headbutt Flip
Backward A - Wave The Wand
Up A - Wand Point
Down A - Rush Kick

Throws:
Up: Cleft Cannon
Forward: Levitate
Backward: Wand Stinger
Down: Foot Wipe

Special Moveset:
B - Fairy Toss - Timmy throws either Cosmo or Wanda at the opponents. Depending who he has thrown will effect the efficiency of this attack.
Side B - Star Roll - Timmy turns into a giant star and rolls around in it. Can be steered. Works like Yoshi's Egg Roll
Up B - SlingStar - This is from the Nicktoons series. Timmy bends his wand and then flicks it, releasing a star. Also works as a third jump. Works like Yoshi's Egg Toss.
Down B - Wishing Well - Timmy wishes for something, and one of the things below will happen to the opponents:
- Gradual increase in damage
- Sleeping condition
- Being hit farther back than usual
- Dizziness
- Speed Decrease

SplatSlime Move:
Star Power - A spotlight appears on Timmy, and then he takes out his bass and starts playing. He does damage with every strum he makes. Pressing the button when he strums will make the shockwaves bigger. Works like DK's Konga Beat.

Taunts:
Up - Crosses his arms.
Side - A spotlight appears next to Timmy. Timmy tries to get in it, but it disappears, making him fall flat in his face. He then exclaims "Aw, nuts."
Down - Points his thumb at himself.

Entrance:
Timmy poofs into the stage. It's like Mickey's, but more successful.
General Info
Comments
1
Media
MS Paint
Time Taken
Reference