Nicktoons SplatSlimeStars Ron
Nicktoons SplatSlimeStars Ron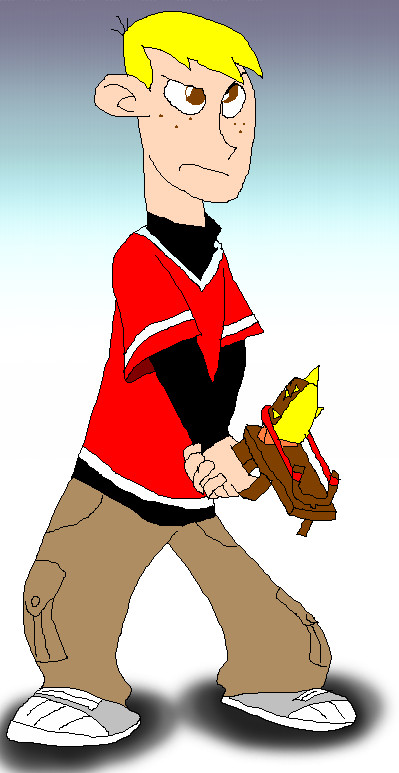 Description
Kim's bumbling sidekick, Ron Stoppable has joined in the fight for the title!

He may not be good in hand-to-hand combat, but he makes it up with his gizmos!

Normal Attacks:
A - Right Slap
A+A - Left Slap
Side A (while dashing) - Roundhouse Punches
Side A - Spin Kick
Up A - Launcher Swipe
Down A - Crouch Kick

Slime Attacks:
Side A (smash) - Film Marker Crush
Up A (smash) - Donut Launch
Down A (smash) - Nacho Spin

Aerial Attacks:
A - Plumber's Boot
Forward A - Spiral Punch
Backward A - Drop Punch
Up A - Flip Kick
Down A - Sudden Land

Throws:
Up - Feet Throw
Forward - Launcher
Backward - Go Long!
Down - LAND - ON - BUTT

Special Moveset:
B - Naco Launcher (pictured) - Ron launches a Naco at the opponent. Be careful if you charge it. Charge it too long, and the launcher will explode on you. The Nacos can also be used to restore damage. Works like Diddy Kong's Peanut Popgun.
Side B - Ninja Rufus Star - Ron throws Rufus like a Ninja Star. Returns after going a certain distance.
Up B - Blaster Briefs - Ron charges for a second and then launches in a direction with his Blaster Briefs. Works like Diddy Kong's Rocketbarrel Boost.
Down B - Doomsday Device Barrage - Ron uses his 'Doomsday' Device and then spins around violently while shooting lasers.

Tether Recovery: Hair Dryer Grappling Hook

SplatSlime Move:
Beaver Ron Transformation - Ron transforms into a giant beaver. His moveset has slightly changed during the duration of this move.

Taunts:
Up - Attempts to wave the crowd.
Side - Does a variety of Monkey Kung Fu poses.
Down - Freaks out by the sight of a monkey.

Entrance:
Ron comes to the stage on his electric scooter.
General Info
Comments
1
Media
MS Paint
Time Taken
Reference