Zoness Mafia Admins
Zoness Mafia Admins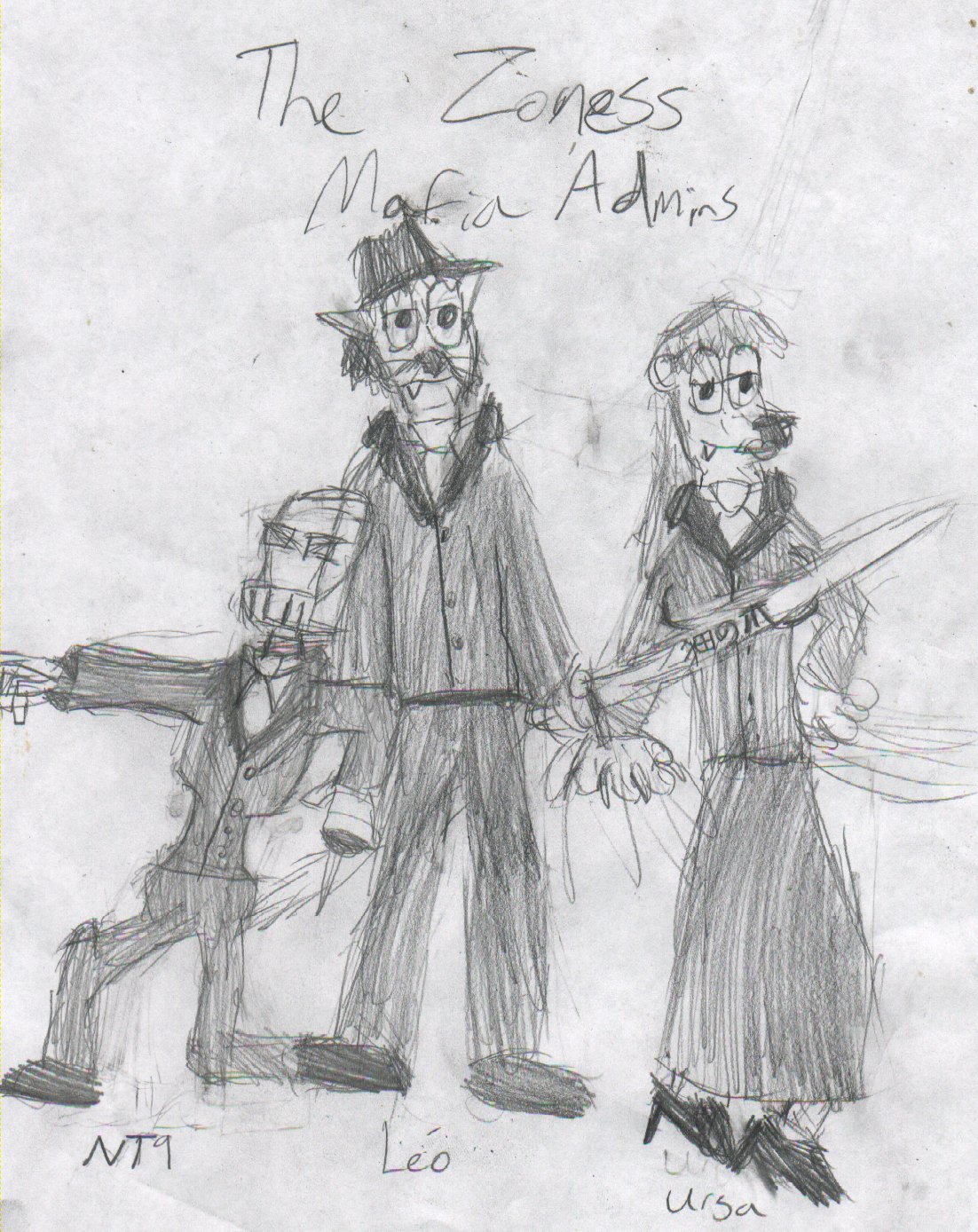 Description
3 of my 5 Star Fox OC's
From left to right:

NT9:
Age: Originally built 2 years ago
Skills: Houses many guns, knives and various other weapons in his chassis. Can detach various parts of his body and reform them. Is weak to electricity and magnets. Can also be damaged by fire and strong fist attacks. Body temporarily shortcircuits when he touches water.
History: Originally made to be like a butler. However, after being constantly mistreated, he went on a murderous rampage. He killed his original owners very violently, with blood everywhere. Soon after, he took up the glamorous job of a mafia member.

Leo
Age: 3 years older than Katt
Weapons: Beam Saber (Cat's Claw)
Abilities/Powers: Expert swordsmanship
Skills: " "
History: Born into poverty on Zoness, Leo originally learned how to use a beam saber from an old hermit on a remote island at the age of 4. The hermit told him at the age of 16 that the power of a beam sword is not to be underestimated and is very powerful. Soon after, Leo was cornered in an alley by thugs. Leo attempted to defend himself with his saber, being in training for 12 years, and believing what the hermit said about the power of a beam saber, but wound up getting beat up and losing his left hand. He was rushed to the hospital about 10 minutes later. His left hand was replaced with a robot one. However, the operation was very expensive, and put Leo's family on the street. Leo was incredibly angered by the hermit lying to him. He rushed to the hermit's island, where he confronted the hermit. Leo quickly killed the hermit and soon after went on a rampage. He started with the thugs who cut off his hand, whom, he easily killed. Leo's killing spree continued anyone who turned the corner on his new alley, which he acquired from the thugs. He beheaded every single person, men, women and children. He later got tired and went for the big score, his own family. He killed his father first, followed by his mother and his baby brother. Right as he was about to murder Katt, then 13, Falco noticed the commotion and stepped in. He disarmed Leo and stabbed him twice with his own beam saber. Falco finally kicked Leo hard and left him in the ditch to die. Katt, who suffered minor injuries, was taken to the hospital by Falco. This explains why Katt loves Falco so much. Anyway, Leo woke up in the ditch and tended to his wounds. During the Lylat War, he spent time as an assassin, killing both Cornerian and Venomonian officers. He was approached by Don Parroto and was asked to join the mafia. Leo attempted to kill him with his saber, but was thrown off. He was later forced to join the mafia. He still holds a grudge with Falco over the events when he was 16.

Ursa
Age: 21 (going during SF64)
Weapons: Incredibly sharp teeth and claws that can be spiritually modified
Abilities/Powers: Power of seduction, that counts right?
Skills: Can seduce people easily. Knows how to wield a gun. Weak to chocolate (she absolutely LOVES it) and ice.
History: Born among the rich districts of Zoness, Ursa had it made. The problem was, she was always rebellious. She never stood out at school due to the fact that she believed that she would be made fun of or taken for granted due to her riches. She later started to vy for attention by doing bad things like tagging and stuffing the skunk kid into the teacher's desk. This angered her parents, who always wanted her to be prissy and ladylike. In her 8th grade year at Zoness Middle School, she blossomed into a beautiful young woman, but, due to the fact that her puberty happened during the school year, she would be continuosly made fun of. In high school, during sophomore year, she was consistently tortured by the cheerleaders. This anger boiled up until it finally burst and she went postal on Zoness High School in senior year. Ursa escaped arrest by gunning down cops and SWAT members. After the defeat of the SWAT team, Zoness requested the help of Star Fox. Star Fox rushed Zoness High in search of Ursa, but she was nowhere to be found. She was put on Zoness' Most Wanted, but after several months, the search for the most wanted person on Zoness was called off. Her parents were ashamed and appalled of her actions. Soon after their press conference, they were took hostage by Ursa, who was in hiding practicing her claw and fang based powers with an old hermit. She had the power to do so many offensive and defensive attacks with her claws and fangs she developed her own fighting style. She captured her parents after the hermit was killed by Leo Monroe, believing that her powers were strong enough to wipe out an army. She almost did. The Zoness planetary guard, the Star Fox team and the SWAT team assaulted Beren mansion. Ursa killed her parents and prepared to bring down the armies. She easily disposed of the planetary guard and the SWAT team, but had trouble taking down Star Fox (don't forget, she was dealing with original Star Fox). She defeated Peppy and Pigma with ease, but James McCloud nabbed her from behind and arrested her. She broke out of prison by cutting through the bars. During the Lylat War, she was absolutely overjoyed to find out that James McCloud had been killed by Andross. She set out to Venom, but she was stopped by Star Fox and Katt before she could leave. The mafia interfered with her second capture, sending Star Fox back on their path to Venom. She later joined. She currently has a rivalry with Slippy due to the fact that he was the one who originally found her again and nearly had her executed.

P.S. The writing on Leo's sword reads "Neko no Tsume" which is japanese for "Cat's Claw"