The Maclewsis Family
The Maclewsis Family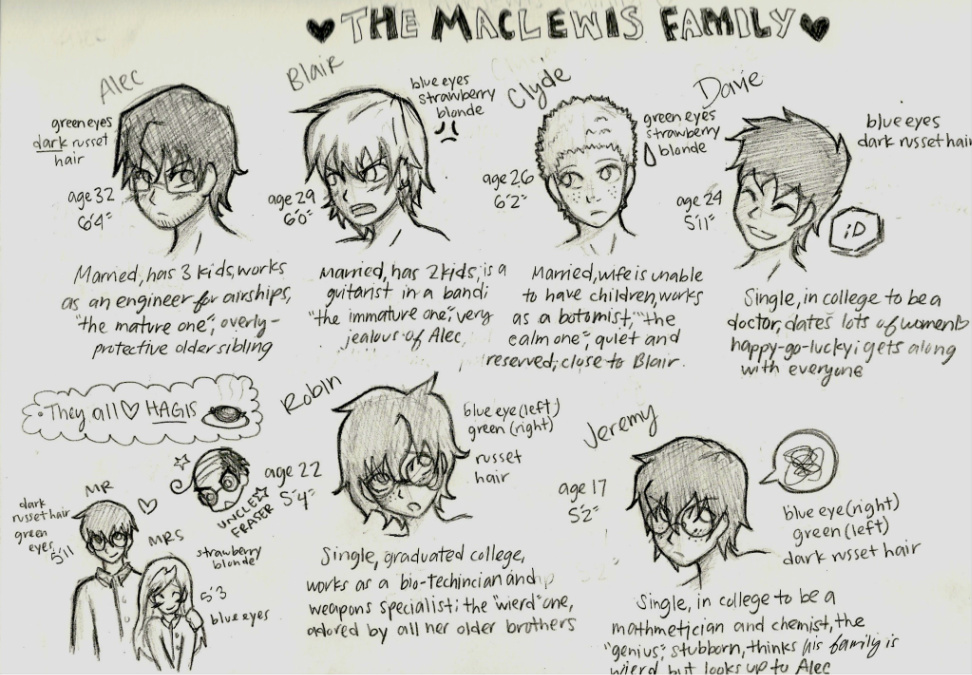 Description
Okay, I really don't feel like retyping out everything written up there, so I'm hoping it's safe to assume my handwriting is semi readable there.

Alec, Blair, Clyde, Davie, and Jeremy. Those are all five of Robin's brothers! I finally gave them faces and lives! Yayy! Oh yeah. And by the way, Jeremy TOTALLY isn't Harry Potter... *dies* ((N-now... I'm thinking.... of the Weasley Family. I should NOT have said that.... Shoot.))

Anyways, I would be very pleased if you... *fidget* picked your favorite brother... heh heh... My favorite, I'd say, is Davie. 'Cuz he reminds me of my uncle who, although related to my step dad, is somehow still cool. And he's the only one who defends me when the rains of teasing come a-storming. So I've said several times, "I like this guy. Can we keep him? He actually SEES my side of the story!"

Ah yes, and in the bottom left hand corner we have the parents. Pft. They weren't important enough to be drawn in more detail, I guess.

And there's Uncle Fraser, too. He... is... I dont even know. He's Robin's idol? xD He's kinda... out there. *nod*

With a bit more practice I would very much like to draw them all standing side by side. With all of their heights correctly proportional... *eyes glimmer* A dream~

I need to draw up my other character's family's as well... I can't believe I actually did Robin's at all, to be honest. Since she has a freakin' huge family.

Anyway, sorry for talking too much. Bad habit...
General Info
Comments
2
Media
Graphite pencil
Time Taken
Reference