Wysteria Ber'chell
Wysteria Ber'chell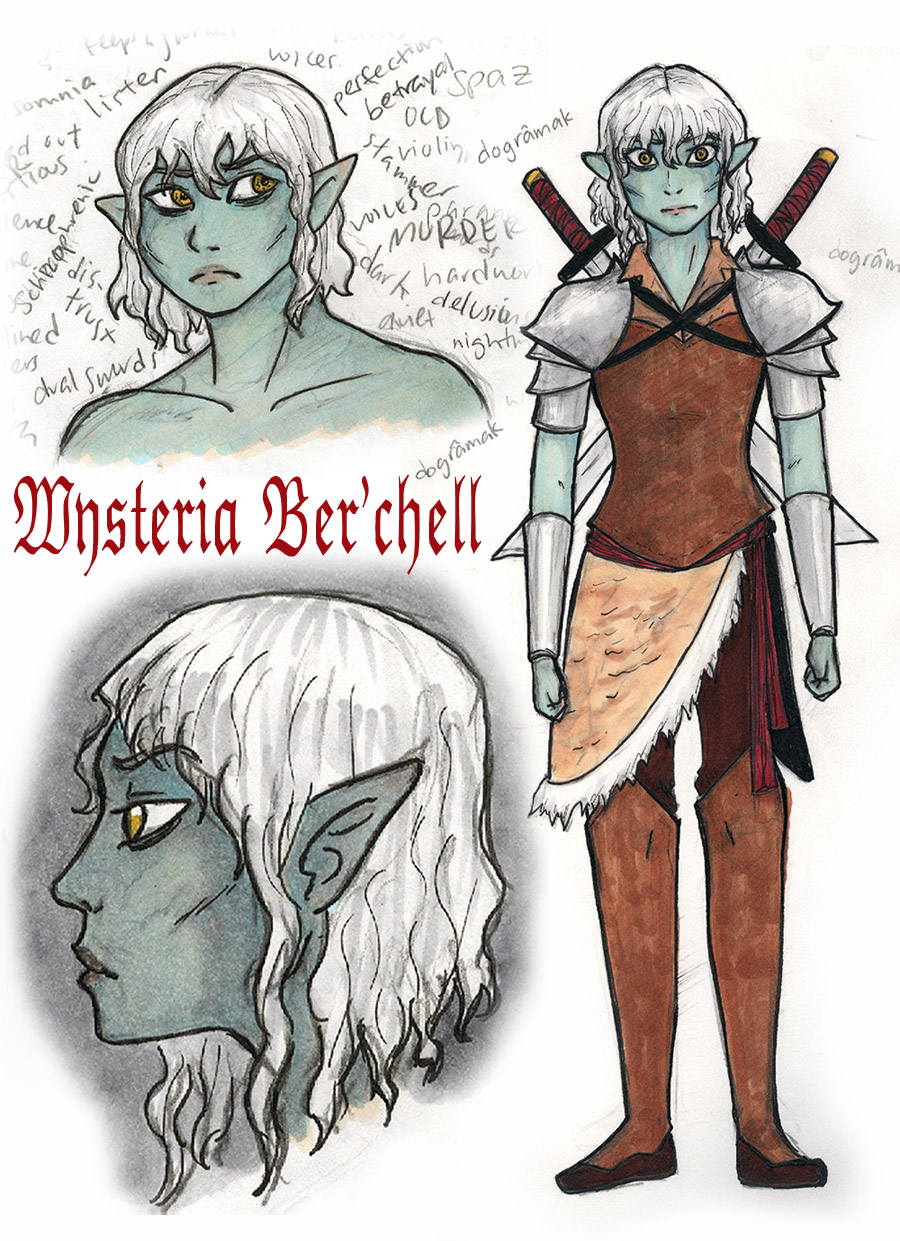 Description
Just realized I never posted my initial character sheet of Wysteria I did a few years ago! I'm quite proud of it, despite it being so old! Used Copic markers. <3

-----

Behold Wysteria Ber'chell the 27 years old Dunmer/Redguard.

She has problems.

---------

Appearance:

Wysteria stands at 5'11 and maintains a well-toned, strong, but lean appearance, resultant of her constant, self-disciplined training regime. She has has dark, troubled auburn eyes often which reflect her many sleepless nights and a less-than nutritious diet. She often appears exhausted, no matter how well rested she actually is and appears much older than she actually is, in part due to her curly/wavy silver-white hair, which is often very unruly and ends just below her chin. She retains the pointed ears of the Dunmer and has light, slightly bluish, gray skin.

Personality:

Wysteria is of, what most would call, a poor mental state. Paranoid Schizophrenia and perfectionist tendencies influence the majority of Wysteria's actions. She seems to believe that maintaining a high stress level is the only way in which to survive in the world around her. Of her symptoms, she often must fight to keep her thoughts organized, sometimes hears paranoid voices or unintelligible whisperings, suffers from insomnia, and her mood can, at times, be unstable.

She lives by the philosophy of "Kill them before they kill you" which is often conflicted by her paranoia, which may tempt her to view an ally as an enemy with ill intentions. She has come to learn more about how to control and cope with most of her symptoms- more importantly her violent tendencies and paranoia in determining who is friend or foe, but if she deems one worthy of death, she will not hesitate to unleash her fury and works with all the speed and skill of the Dunmer and Redguard. Expect to be stabbed several more times than is necessary should you fall. She's also been known to compulsively dismember her attackers at the end of each battle.

She often comes off as rushed, becoming restless easily and always wary of "wasting time". She has a sarcastic, but flat and often dark, sense of humor- often causing the majority of her attempted jokes to end badly. Needless to say, social grace is not her forte. Of her good qualities, she is an extremely hard worker, training and working adamantly (obsessively, even) to remain at the top of her game at all times. She compulsively works towards perfection in whatever else she finds reason enough to do- sometimes causing her to "over do" it or over exhaust herself. She rarely, if ever, lets her guard down- always tense. She is usually one of the more quiet members within a group, coming off as indifferent at times, but she does have a genuinely good moral compass and is very loyal and loving to her allies, even if she may not completely trust them.