STEELE STALLION
STEELE STALLION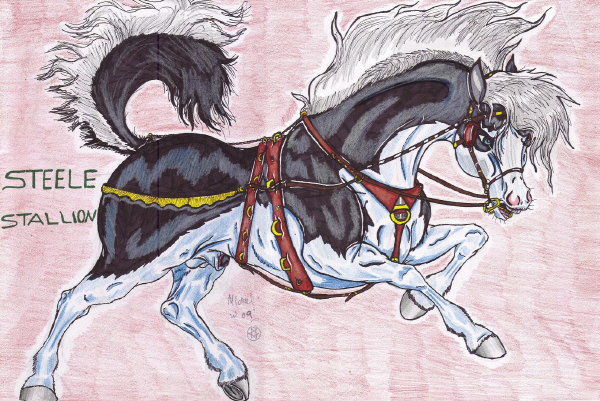 Description
Steele from Balto as a stallion. Done with sharpie and colored pencils.
-----------------------------------
Canine to Equine Commissions Open!!!
Ever wonder what your favorite Balto character would look like as a horse? How about your own original husky or wolf character? Here's your chance to find out!
I'm opening
5
commission slots to turn 1 of your fav. Balto or original dog/wolf characters into a beautiful horse! It will be drawn on HUGE 18''x12'' acid-free paper and colored with a unique blend of colored pencils and sharpies. A back-splash of color to bring out the design of each character will be added to enhance the main focal point of your piece; the breath-taking horse in the center!
I will do this for
$15.00
to be payed via PayPal.
If you want your character adorned with tack (harness/bridle), it will be an extra
$5.00
Multiple characters and detailed backgrounds also available, but prices are much higher. PM me for details.
If you're interested and would like to be added to my commission list, leave a comment here or on my profile explaining the following:
~ What character you want me to draw (include a link if it's an OC).
~ Whether you want a "natural pic" (by agreeing to this type of pic, the character will be drawn with it's gender revealed in a natural and NON-SEXUAL way) or a "modest pic" (character will be in a pose that hides it's gender).
~ And finally, what breed of horse would you like your character portrayed (this is optional…but, Balto characters will be converted to the breed of horse I feel represents them the best).
Check out my Steele Stallion for an example of how your [natural] pic will look. These slots won't last long, so saddle-up while there's still time!!!!!
Slot 1:
OPEN
Slot 2:
OPEN
Slot 3:
OPEN
Slot 4:
OPEN
Slot 5:
OPEN
All Balto characters (C) Universal Studios/Amblin Entertainment