Demitri In His Studio
Demitri In His Studio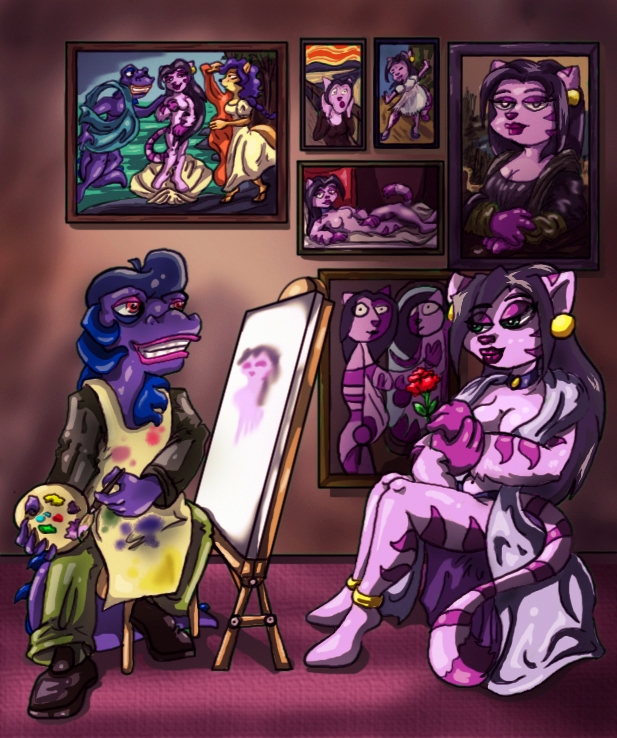 Description
The theme is rather special since she was generous enoug hto give me time to work on it. It's Dimitri in his studio painting Neyla. Now I bet alotta you were expecting Neyla to be fully nude for Dimitri; IE Titanic style artist rendering. Well sort of. She's topless but has a blue shawl wrappedaround her. She is also holding a rose. A little close to be painted as she is right next to Dimitri's canvas. Love is never far away though huh? XD

We also know that dimitri enjoys forging famous paintings. So rather than put himself in them he painted some in the BG with Neyla in them. And they go as follows.

Botticelli's 'Birth of Venus'
Edvard Munch's 'The Scream'
Edgar Degas 'Just Some Ballerina I made. Degas did so many.XD'
Edourd Manet's 'Olympia'
Pablo Picasso's 'Girl Before a Mirror'

And of course, the all time famous art piece

Leonardo Da Vinci's 'Mona Lisa'

What Dimitri is painting right now is his own idea of having the half naked Neyla sitting there with a rose. I wanted to be around when he painted her as 'Olympia'. XD

Seriously though some of the paintings he did rather small. Guess they're easier to carry. XD I know how it is. In school they make me paint stuff this small too. XD

Well this is my entry. I hope people like it.

Dimitri and Neyla are (c) to SuckerPunch.