Final fantasy 12 moogle the 2nd
Final fantasy 12 moogle the 2nd
Final fantasy 12 moogle the 2nd
by
sci00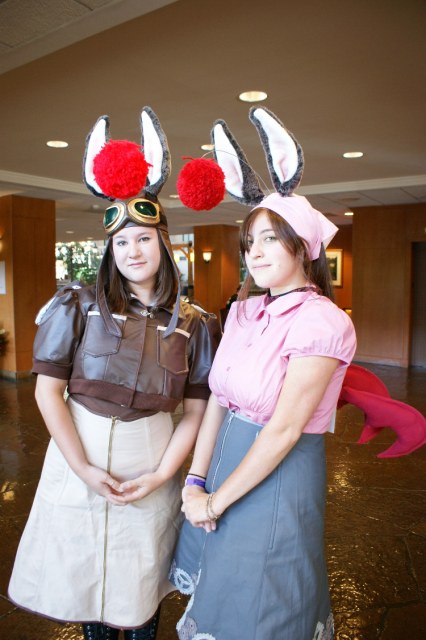 Description
My friend Tara and I in our moogle costumes. I'm the one on the left in the pilot outfit :D Everyone except the googles and the broach on my back were made by me. I'm so proud!

The bobble was made in a standard bobble technique (wrapping it around a piece of cardboard, slipping it off, tying and trimming) and was an entire small skein of I love This Yarn brand red.The bobble hangs off a small loop at the end of the same wire (I forget what gauge). The hat and the jacket are both made out of pleather and lined with brown cotton.

The wings were sewn out of the same brown cotton as my jacket and hat lining and fleece and belted onto my jacket and there is a little resin white rabbit broach between my wings which unfortunately I cannot take credit for - that's my future mother in law; she found it for me.

The skirt is a corset skirt and was made out of khaki canvas and spiral steel boning. I didn't have enough time or funds (or patients) left to add the belts or grommets. However, since I work at Nan Kan I needed something that I could move around in and actually sit in since I was on my feet a lot. So, my friend and I decided that waist sinchers would not end up in the final costume and I'm glad they didn't. The skirt was tight enough.