Somebody-Again|*for supermad
Somebody-Again|*for supermad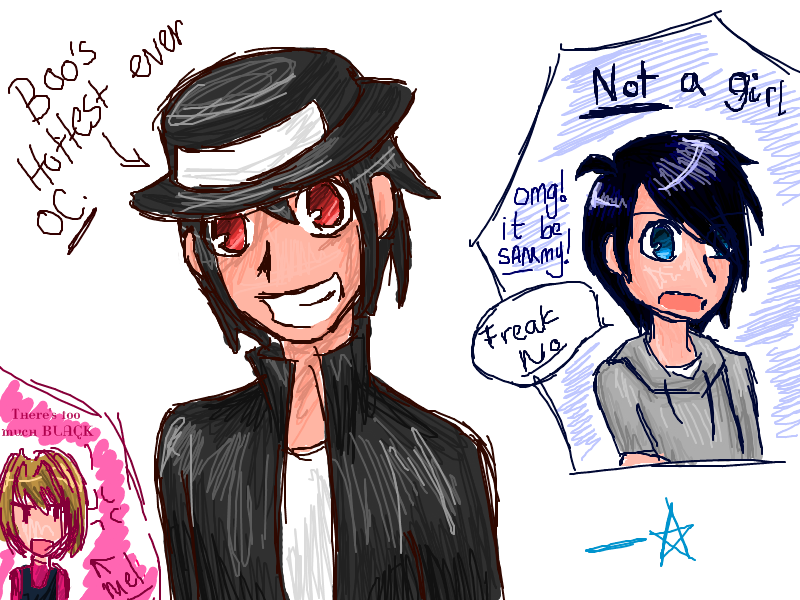 Description
Here you goes supermad.
Lol I added Mel And Sammy* in there.
Sorry, couldn't help it.

*For the majority who have absolutely NO IDEA of who I'm talkin about, let me explain.
Meloney(aka Mel) was like, mah second/pre oc.
First she was just Leaf(from lg/fr) dubbed 'meloney' and called an oc.
She was and is Violet's bestest eva fwend 4evaz and they liek travelled around the pokemon whirled together. Along their travels, they met Roran(an ex-pokemon ranger and just free from juvie) and later on Sammy, who ended up moving in with violet because he's a hobo and has no munnys.
But then I liek, abolished the entire pkmn oc thintg and now she's just Mel. She's been through so many changes, but I think I've finally got a ...final design for her.

As for Sammy, I first drew him at the back of my french book.
He actually hasn't really changed since that day. He's always had his grey hoodie, black emo-styled hair and unnatural navy blue eyes.
And his personality is still the same too. He started out as some n00b new york kid who moves to central london.(I was in kuiwait and really homesick)
But then he somehow went to pokemanz since I was bent on having SammyxVi(still bent on it.)
But noa he's reverted back too just Sammy. Altgough, he is still fangurled over by Vi :D


Weeell, that's the end of my rant.
Almost. Just want to clear up:
+Sammy and Mel Belong to ME.
+Somebody belongs to Boo
+Sammy is infact not an Emo.
+Sammy is also a girl Guy
+Sammy could very easily pass off as Sally's little brother. Even their names sound the same.
General Info
| | | | |
| --- | --- | --- | --- |
| Ratings | | Comments | 11 |
| Category | Anime/Manga » - Original art | Media | Other digital art |
| Date Submitted | | Time Taken | |
| Views | 1334 | Reference | |
| Favorites... | 1 | Keywords | |
| Vote Score | 4 | License | Berne Convention |