Ryoushi and Kaze
Ryoushi and Kaze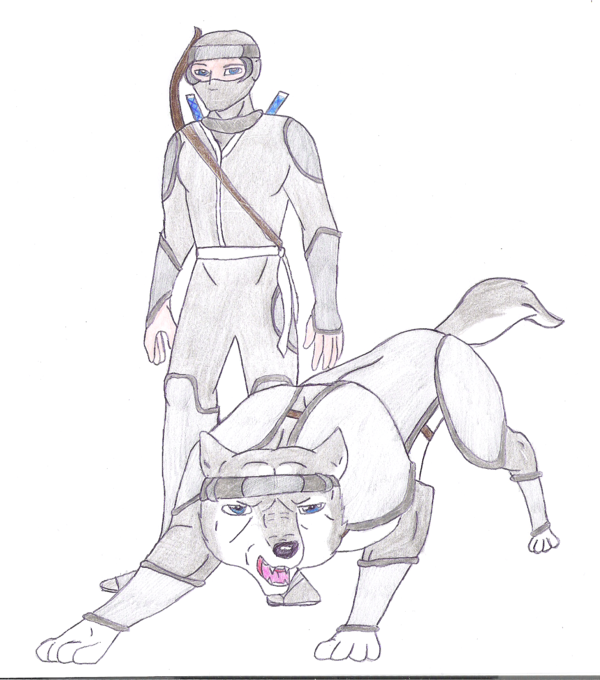 Description
first of I am no where near this good to draw. so I have not drawn this! I used two line arts.. the wolf line art was drawn by a friend of mine, Gemini and the human I found on the net.. so credit goes to who drew him..
All I did was putting them together and drawing the sut and armor on them..

so I wanted to see if I could make up a ninja char oc that could fit in in the ninja gaiden world. and this guy came up.

this is Ryoushi, The wolf ninja. his name is japance and means Hunter. he is 20 years old and a well trained ninja. he is nowhere near as strong and good as Ryu and Hayate but what he lacks in strength, he makes up in speed and endurance. he was raised by the Shiroinu clan. a hidden ninja village called also called the white dog clan. the village is special in they way they train their dogs. each ninja is given one dog that he becomes partners with at a young age, and the two are bonded for life. the ninjas of the village are not trained mush in the matter of fighting, but they can hold their ground of attacked, their way has become one of being messengers. the men of the village has grown small, which enables them to ride the dogs for short distances if needed.
Ryoushi is on the other hand not of the clan. he was an orphan that was left there as a baby. he was trained as one of their own, something that was not easy as the other students contantly were after him.
his compaion, Kaze was found as a new born by a pregnat dog mother, and she took him in as her own. the cubs were always after him during their training before they were chosen by a human. Ryoushi named him Kaze, for hs movents were as fast as the wind.
Ryoushi and Kaze does not look at each other like Master and pet but more like brothers. they have since they met on the day the ninjas were chosing their dog. none of the village ninjas wanted him since he was a wolf, and they made sure Roushi was the last to chose. seeing the cub was a stray like himself, they became best friends.
even as Roushi is not of the clan, the training left him growing shorter, even as he is still taller than any other in is village, he is small compared to a grown man. he was afraid that he would grow to big and heavy for Kaze to carry, so in stead he trained to being able to running beside the wolf, that gave the both of them an incredible speed and endurance. Kaze trained at the same time to being able to carry much heavier weight on his back, as the same time as he grew up larger. Kaze can easily carry his master over great distances, and also carry a grown man on his back for a short distance at top speed.
the headband on their heads were placed on them as they got througth their training together. the steel plate on the headband has a mark on it, that says 'Wolf'. each of the ninjas of the village has a difrent mark on theirs. the half moon steel decor on it is not there for just decor. on the other side of it there is a long really thin needle going througth the templates and into the brain carefully. when it was placed there it was dipped in a fluid that efected their brains.
Kaze is as smart as a human, he understands everything that is said around him and can react to it. he can not speak but he has his ways of being understood.
Ryoushi became more atoned to his animal side and can now understand all animals, and talk to them.
the two of them also gained the ability to not only understand each other but they can speak over great distances with out a word, through their shared feelings. sometimes it's hard for the two of them to separate who is feeling what.
as the two of them gained this skill, they becme like brothers and quickly became the village's best ninja. they are the strongest and quickest, and gained their rigth to live in the village and the villagers respect.
Roushi is a master of the bow and his skills are unmatched by most. for close combat he fights with his Fangs, as he calls them, two shorter Katanas. he is deadly quick in his moves and is hard to hit.
Kaze fights very well with his chosen blade, a short katana like his human brother, but mostly he does not need them. his speed and strength is enough most of the time, his jaws are so well trained he can bit through steel if he needs to.
the ninja of the White Dog clan are usually dressed in completely white suits, Ryoushi on the other hand chosed to dress in a silver gray suit that matched his Brother's fur. the wolf's armor is ligth and is made so that it will not hinder any of his movements.
Roushi and Kaze has for a time left the village for some time to train. maybe will their ways cross some other ninja's paths during their travels

so that's their story. I did this one today, the scanner killed some of the color it seemed. the armor plating on Kaze's shoulders is supposed to be grey..

feel free to tell me what you think but don't dare to steal them!
General Info
Comments
1
Media
Colored Pencil / Crayon
Time Taken
all day almost
Reference
line arts