Umi and her dog partner
Umi and her dog partner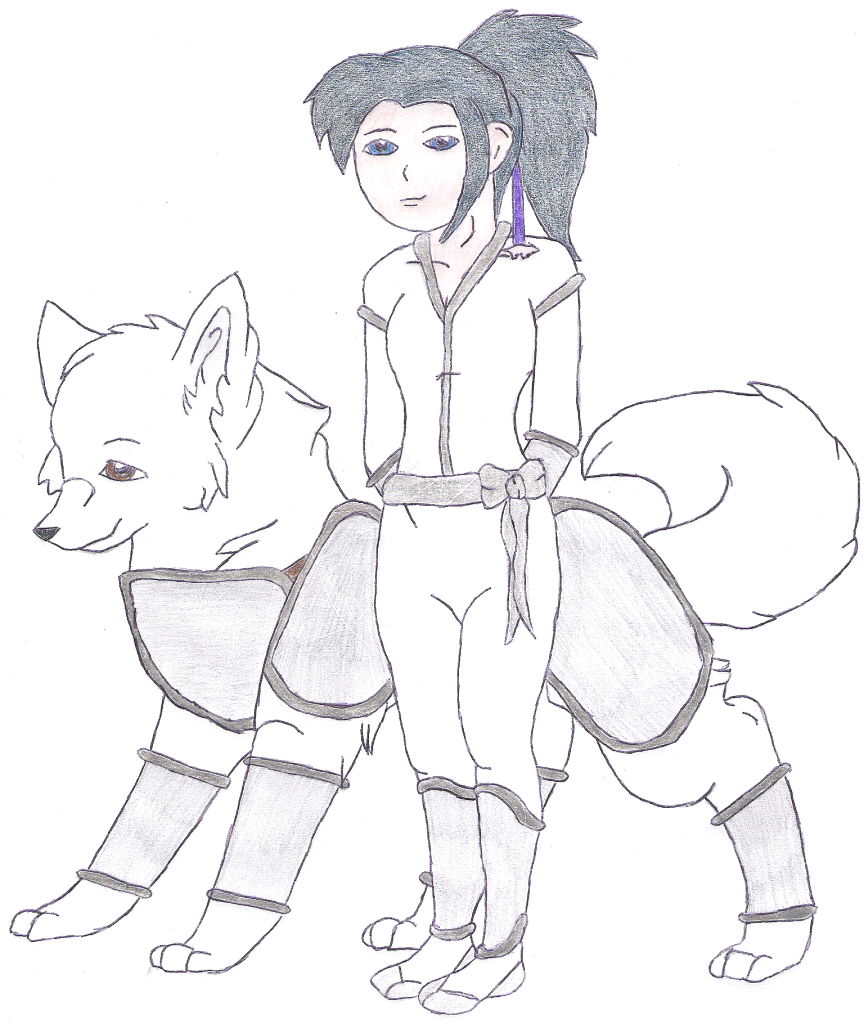 Description
I did not draw this one. I only used two linearts I founnd on DA. cred goes to the ones drawing them.
http://frigidrose.deviantart.com/
http://kiroo.deviantart.com/
so here she is or they are at long last. here is Umi, Ryoushi''s "little sister" and her dog partner. I have yet to come up with a name for her dog.. any help would be appreciated.
so this is what she looks like from the stories.
Umi is around 12-13 years old, she has not yet earned her headband, witch she will earn around 15-16. at the age of 10 they earn their dog partner.
Umi means sea. her father named her that after she was born. her blue eyes and her black hair that shimmers in a blue color reminded him of the sea. a fitting name to her as she is clam and friendly to all she meets. in some ways you could say she is very naive, yet if danger is lurking she can rage like the sea.
her parents were two of the pest in her village but were unfortunately killed during a missing when Umi was only a baby. she was raised by the villagers, and everyone loves her. she is kind hearted and friendly. she works hard and never complains. she always helps out around the village. the old lady that mostly raised her does not like her decision to follow in her parents footsteps and becoming an ninja. this made her early training very hard and one day that she was about to give up on following the ninja way, Ryoushi helped her by learning her to become a better archer. she then saw how he was treated by the other villagers and deiced to call Ryoushi her older brother. something that made the old lady nearly have a heart attack. after that the old lady hated Ryoushi, even as she can to say that Ryoushi has been good for Umi.
Umi is dressed like most White dog ninjas, but the silk bond that holds her hair up was given to her by Ryoushi on the day that she earned her dog partner. it''s common in the white dog clan for the parents to give their children a gift on that day. on both ends of it there is a carved Dog figurine, that Ryoushi carved out of the bones of a fiend, to protect her. she never takes it of.
her dog partner is very shy and nervous, but she loves Umi with all of her heart and would die for her.
feel free to tell me how I did. oh and there is a second image of these two coming up.. one were Umi is around the age of 20..
General Info
Comments
0
Media
Colored Pencil / Crayon
Time Taken
a couple of hours
Reference
colored lineart