Fry Loves Rock N Roll...
Fry Loves Rock N Roll...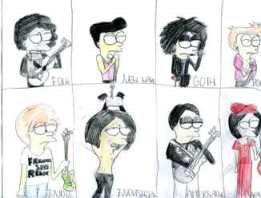 Description
So put another dime in the jukebox, baby. Fry loooooves rock n roll, so put another dime and dance with him!

Fry, yet again, is dressed like various rock stars from different music genres.

Folk Fry- Bob Dylan
New Wave Fry- Joe Strummer (The Clash)
Goth Fry- Robert Smith (The Cure)
Pop Fry- Simon Le Bon (Duran Duran)
Indie Fry- Thurston Moore (Sonic Youth)
Industrial Fry- Trent Reznor (Nine Inch Nails)
Alternative Fry- Billy Corgan (Smashing Pumpkins)
Garage Fry- Jack White (The White Stripes)

I hate how small this looks!!!!

But please, PICK YOUR FAVORITE FRY AND COMMENT!!!!!!!
General Info
Comments
0
Media
Colored Pencil / Crayon
Time Taken
Reference