The Death of Bagman
The Death of Bagman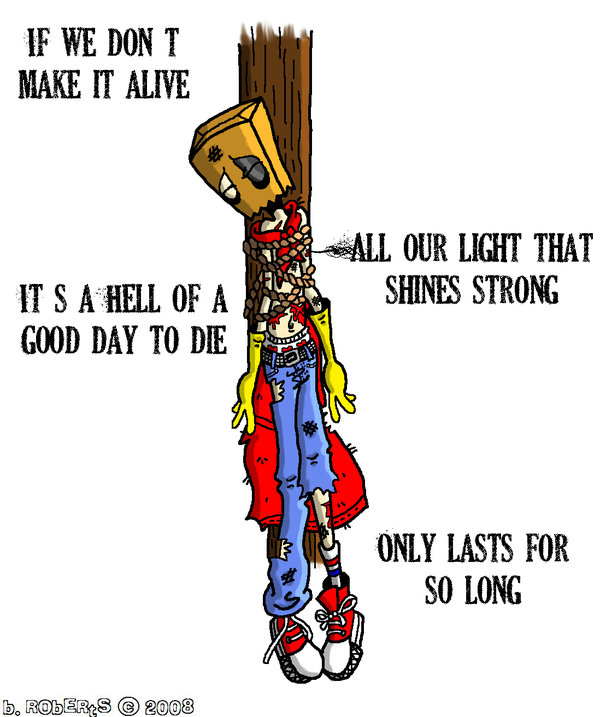 Description
WHAT? Bagman DEAD?! NOOOO!!!!
That's right. He is really dead. HOWEVER, there's more to the story...
Let's go to the previous step:
Atthony ticks off the wrong nerd at the comic book store. That nerd goes home, creates an evil pair of robot pants with Doc-Oc tentacles, and goes after Antthony as revenge. Unknown to him, however, Antthony is Bagman, and takes him on as such. The nerd is more than Bagman bargains for, though, and he gets a royal beating...
For previous picture, click here:
http://flammingcorn.deviantart.com/art/Battle-scarred-Bagman-69684334
Now for what's going on here:
Bagman's attempts are valiant, but the Robo-Nerd is just too much! With a few horrible poundings into the ground, Bagman is crushed to death. As a final humiliation, the robo-nerd displays the body...
Finally for the aftermath:
Okay...Bagman wakes up only to find himself in Heaven. A good thing by far, but realizing you're dead's a real bummer. That's when God speaks to him. That's right, GOD. He tells him that it is not his time, and he must go back! God then resurrects our beloved hero. (Matt has informed me that this should be done via God punting Bagman over the Pearly Gates)
For aftermath pic, click here:
http://flammingcorn.deviantart.com/art/Angel-Bagman-79041102
Happy ending!!! sort of...
ANYWAY, I was just gonna wait and let you guys take all of that in when I made the comic, but I'm tired of waiting on myself! Plus, this picture wouldn't have made any sense...
THERE! I HOPE YOU ENJOYED IT! *runs away Napoleon Dynamite style...*
BTW, those are the lyrics from The Offspring's new song "Half-Truism", and I'm twisting the lyrics's meaning because I want to. So there. XD
General Info
Comments
26
Media
Other digital art
Time Taken
Reference