What just happened?
What just happened?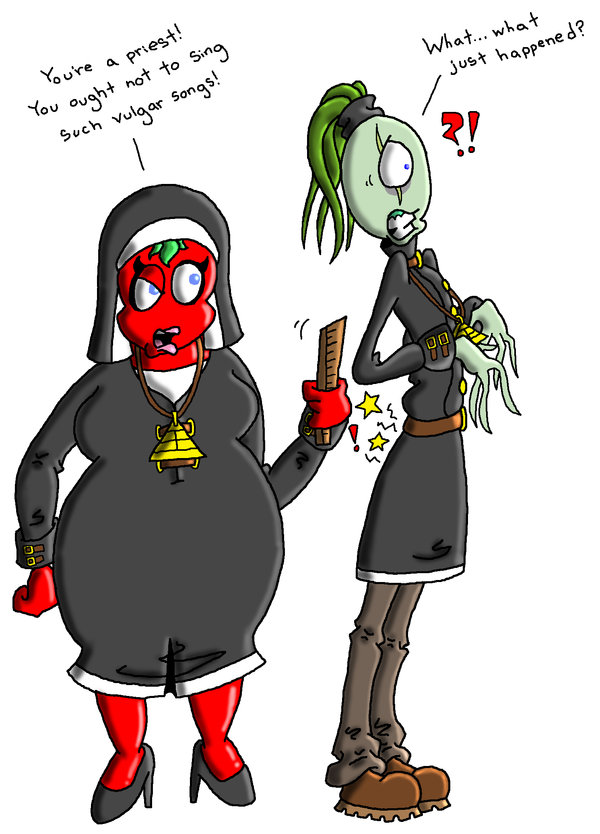 Description
That...THAT just happened. XD No...actually, he just got swatted across the butt, that's what happened. And he's too befuddled and embarrassed to be mad about it. XD

I imagine he was probably singing the song "Sister Sara" just to mess with her actually. In case you're unfamiliar with the song, it's about a nun who's a whore and goes to Hell, where her punishment is to have sex with the devil for eternity. In fact, the first line is "Now I don't know but I've been told there's a nun having fun and she lost her soul. She's got cash, she got laid, now she's dealin' with me and she's gonna get paid. She got caught with the bishop, she got caught with the abbot, even cardinal sin tried to feed her habit". Needless to say, I'd hit him too. XD

akhsdkjxhncm SISTER SARA LOOKS TOTALLY AWFUL! Good Lord, her arms are too long and her body is too round and...yeah. I submitted it anyway because McCrea looked pretty good except for his pants, and he didn't make much sense without her. XD SO THERE!
General Info
Comments
11
Media
Other digital art
Time Taken
Reference