Flint
Flint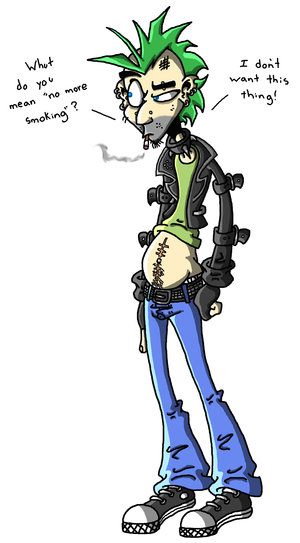 Description
This guy is Flint, and he has been surgically knocked up by aliens. He isn't happy about this, obviously...

I'm also gonna make him a best friend, because the "Ooh, are you the daddy?" joke between two straight guys is just too classic to pass up. It probably wouldn't be able to apply to my other stuff anywhere, may as well use it while I can. XD I don't see this becoming the next big comic or anything anyway, I'm mostly having fun.

Anyway, his friend will be a taller, skinnier dude (just to make him look that much sillier when he's pregnant) with black hair. Not entirely sure on his details all the way though yet. I'm thinking of maybe naming him Sturgis. Yes, Sturgis is a real name. XD

ANYWAY, I've got it started out with Flint being his usual "badass" self and being drunk and spray painting a wall or something when he gets abducted by the aliens. The aliens won't explain 'til later (because I don't expect aliens to explain anything while they're implanting a baby into a random jerk off the street), but they're doing this out of desperation. Idaknow. Maybe the alien that was originally birthing the baby fell ill or something...I'll figure it out and make it less cliche. XD Anyway, for whatever reason, they need a surrogate "mother" and fast. So they snatch our main guy.

They then knock him out, cut him open, and supply him with the temporary artificial organs necessary to house and nurture the offspring within him. Of course, there's still the problem of having no place to push it out...but they'll come to that when they get there. XD They're a superior race after all!

Then they drop him off like an old overcoat with a "helpful" note telling him what had just happened. That's when it hits him and he runs to Sturgis for help. With little to no knowledge on birth or babies or anything between the two of them, you can pretty much imagine what all ideas they come up with. XD

But enough about the story, more with the picture. Sturgis insists that he stop his bad habits like drinking and smoking, but Flint argues that it doesn't matter, because he doesn't want the "baby" anyway.

Sturgis is finally able to convince him that he's better off having a living thing inside him than a dead, decaying one though, and he attempts to kick the cravings for a while. :D

As you can see by the horrific scar down his belly, that's where they implanted everything. I kinda wonder how they're keeping it from crushing his organs...
General Info
Comments
7
Media
Other digital art
Time Taken
Reference