Serpiente de los Pantalones
Serpiente de los Pantalones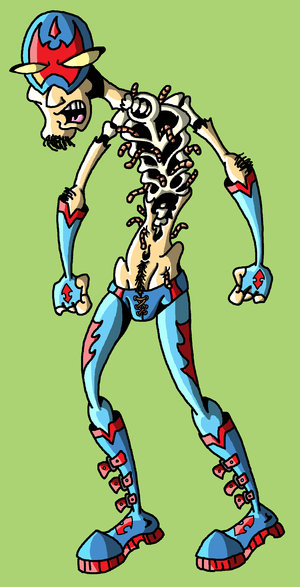 Description
LOL, remember that dream I had forever ago about the masked wrestler who had the hollowed out chest? This is him. :D I call him "Serpiente de los Pantalones" which is poorly translated Spanish for "The Trouser Snake". XD LOL, maybe one of my Spanish speaking watchers could translate it better for me. :D

BUT until then, Serpiente here will just be poorly translated. Which actually kinda works for him.

ANYWAY, he works at a video store, renting out VHS tapes to people who still care to watch them. :D He has all the old obscure titles too, and probably stuff you've never even heard of. He thinks his belly hair is sexy, and even if you think otherwise, don't disagree with him. He likes to take the maggots/worms out of his chest cavity and throw them at disagreers. >_<

Apparently someone disagreed in this pic...
General Info
Comments
7
Media
Other digital art
Time Taken
Reference