Andrew ref sheet
Andrew ref sheet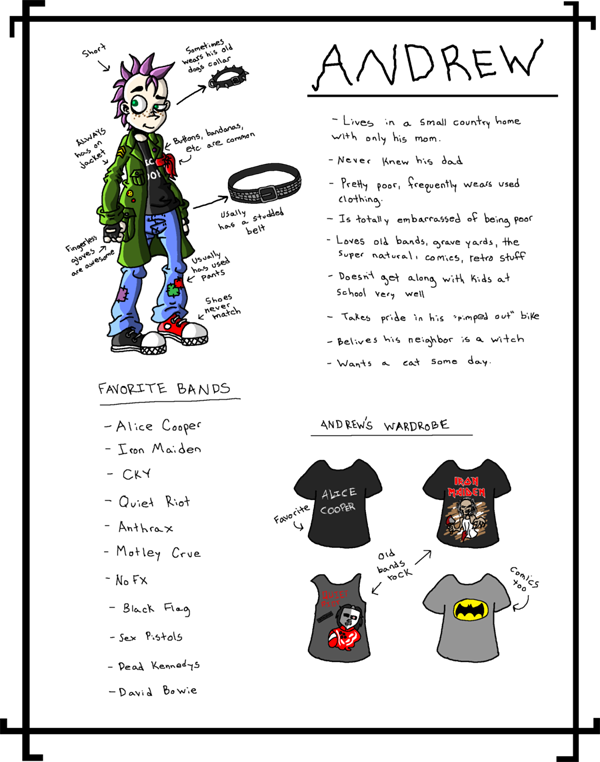 Description
READ HIS INFO HERE:
http://flammingcorn.deviantart.com/gallery/?catpath=/&offset=120#/d37hexy
I had to resize it to fit here and it made everything unreadable. XD Just full-size it when you get there...
MEANWHILE:
I'm wanting to get back into Andrew and Susan's story, and more or less rewrite it. For fun, I decided to make them little ref sheets. XD I eventually wanna make ref sheets for all my people...but that might take a while.
Various info:
- Andrew is a bastard child, never knowing his father. His mother and father lived in the house they live in now before Andrew was born, but he left before Andrew could ever come into the world. The house itself belongs to Andrew's grandmother on his father side. She agreed for his mother and him to live in after his father left, most likely as somewhat of an apology on behalf of her son. Despite the family drama Andrew's father caused as well as his absence, both side of his family get along fairly well as if he never existed.
- The house is a small, country style home. It's been that way for generations. Andrew and his mom are fairly poor, and are thankful that his grandmother gave them the home. Otherwise, they would probably be living in an apartment somewhere in an unsafe neighborhood.
- Andrew is your basic weird kid. He enjoys the supernatural, retro comics and cartoons, and playing around in graveyards. He likes to eat weird stuff too, like peanut butter and jelly sandwiches with Worcestershire sauce (not so much because he likes it, but because it sounds cool). He thoroughly believes his neighbor some few blocks down the street is an honest to God witch, and that her deceased sister still haunts her large, run down, Victorian style home.
- He has little to no friends and is often picked on for various reasons. The few I just listed (bastard child, poor, weird...) are the majority of them. He doesn't let this bother him too bad though. He'd rather be rocking out to his favorite bands or looking for ghosts in various places anyway.
- He believes he has the coolest bike ever. It has a basket attached to the rear to accommodate things he brings home from his explorations, old cassette tapes, some comics, lunches he packs sometimes if his exploring is gonna take a while, and whatever else he feels like taking with him at the time. The front has a battery-operated radio/cassette player held to it with bungee cord. The bike itself is spray painted black (poorly, though he doesn't see it this way) and has various band stickers wrapped around it. And you totally know he keeps a card in the spokes. Ace of spades, babe.
- His jacket belongs to his dad. It was one of the few things he left behind. Despite being a military jacket, Andrew's dad was never part of the military and probably got it used somewhere. Andrew himself doesn't wear the jacket in remembrance of his dad, but just because it looks "really cool". He is rarely seen without it.
I...think that's about it. XD Andrew is fun, I intend to use him more..