Rum and Pepsi WIP
Rum and Pepsi WIP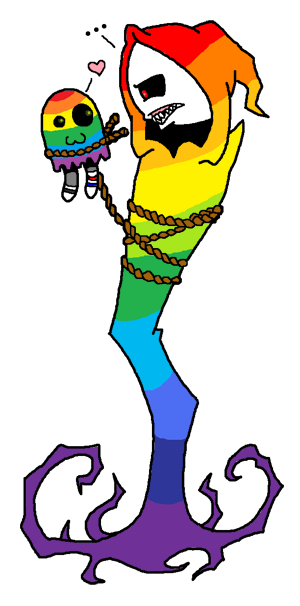 Description
I'll shade and highlight this later, I'm just anxious to post it now. XD Namely, I just wanted to introduce my newest adopted member, Rum. I adopted him here:
http://www.fanart-central.net/pic-815382.html
to be Pepsi's rainbow buddy.
Anyway, I think I have Rum and Pepsi's relationship figured out now. Like, Rum seen Pepsi gliding by one day or something and decided to follow him like a lost puppy. They were both rainbow creatures, after all!
This weirded Pepsi out a little bit, but he finally decided that he could use Rum as something of an evil minion. So he bribed the little fella with tiny mismatched tube socks and promises of blueberry muffins, which are two thing Rum's species adores.
Unfortunately, Rum is not very evil. So now they're just kinda stuck together, as metaphored here in this pic or something.
BTW, still need to work on making Rum the right size and I don't think his species can float that high up...I just altered everything for this pic I guess. They'll be normal next time I draw them. XD
General Info
| | | | |
| --- | --- | --- | --- |
| Ratings | | Comments | 14 |
| Category | Fantasy » Characters » Grim Reapers | Media | Other digital art |
| Date Submitted | | Time Taken | |
| Views | 317 | Reference | |
| Favorites... | 6 | Keywords | |
| Vote Score | 4 | License | Berne Convention |