These guys need voices
These guys need voices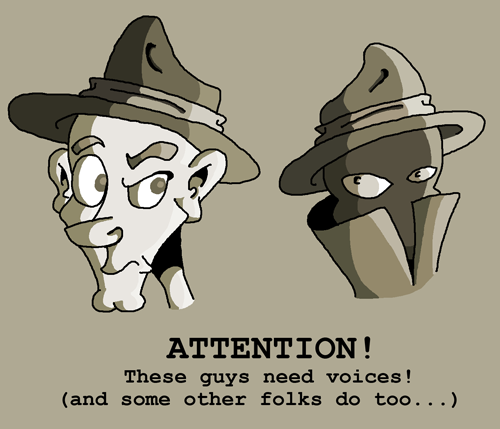 Description
EDIT 3: OKAY, I've got everyone for the time being, but if you still wanna be part of the production, I'm doing an art team, writing team, and will eventually be needing spare voices! SO KEEP CHECKING BACK WITH ME! Thanks everyone. :3
---
EDIT 2: Thanks you guys! I have almost every voice picked out now I think. :3 Just needing an announcer now!
---
EDIT: Stan is now closed. If you've already recorded a Stan, I'll still take it, BUT any new comers are not allowed to send me a Stan. I have a lot of his to go through. XD
MEANWHILE, I really need to link the script. You can find it here
in
three
parts
.
ALSO, you can email the audition to me at
flammingcorn@live.com
. I prefer MP3s, but any kind of recording will do. :3 I'll also accept you linking me to your voice if you've posted it anywhere else.
I think that covers the basic FAQ. XD Feel free to keep asking if you're confused though.
---
Actually, Slick (the one on the right) already has a voice. BUT Stan (the other one, obviously) and some other folks really do need voices!
I figured this was easier to keep up with and would gather more attention than just remaking journals. :D I WANNA GET THIS THING DONE SOMEDAY. And I know
QueenofAnvilania
does too. XD SO, YEAH.
Anyway, here's the scoop for anyone who's interested. I'm making an old fashioned radio show spoof starring my determined yet lousy detective, Stan Marley, and the villainous but silly fugitive, Slick. It's called "The Sinister Cinderella".
Without giving too much away to those who wanna listen, the story begins with Stan checking out a robbery and suspecting his slipperiest foe, Slick, of committing the crime. Upon finding more clues, however, it turns out that the mastermind behind it all is actually a woman. Stan then turns to Slick to help him find the best femme fatales in the underground crime area. AND THEN THERE'S A TWIST. But like I said, I'm not giving much away. XD
ANYWAY, here's the list of voices, who plays them, and a quick description of what I'm looking for for those who are still blank.
---
1. Announcer:
gazongola
2. Stan Marley:
questionthemajority
3.Dingy Willis:
questionthemajority
4.Slick:
KingAtticus
5.Sylvia:
garrenn
6.Black Molly:
QueenofAnvilania
7.Simone:
Water-dog277
8. Les/Lacky one:
KingAtticus
9. Ike/Lacky two:
imagoth2004
10. Fontaine/Lacky three:
Creativefreak18
.
11. Buxton Lamont/Crime Lord:
CubixFails
That's about all. Sorry all the female voices have been filled up, but if your voice is deep enough, I may consider a few female voices. Let's just get this show on the road!!! Thanks everyone. :3
General Info
Comments
12
Media
Other digital art
Time Taken
Reference