Hurray for 150!
Hurray for 150!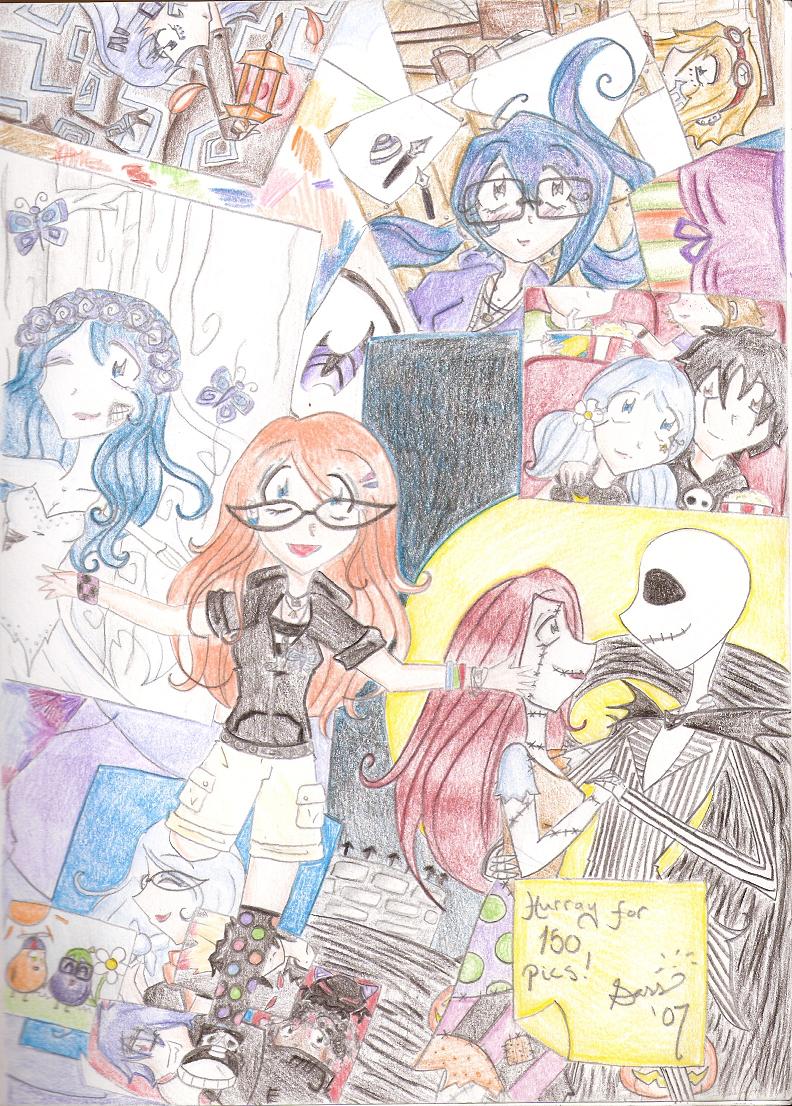 Description
In celebration of my 150th picture…I have created this!! (Huzzah!!) It's been a crazy road, but I'm proud I got here!!

Top left corner picture: Symphony from my Fantasy World. Here she is wandering through the forest in an autumnal season…Actually USING her lantern for once…I've never actually drawn her using it…it just…sits at her belt…NOW IT HAS PURPOSE!
Top right corner picture: Sable from my Fantasy World!! Here she is in her shop 'The Copper Cog Repair Shop'. She's looking down and working on something, but being you can't see her hands you really don't know what it is. Maybe it's new fuse work on a lily lantern. Maybe it's cog repair on a clock face daisy. Maybe it's a rubrics cube. YOU DON'T KNOW!!!
Below Sable's head picture: It's Clarabelle's skirts from my fantasy world!! It was an odd little paper corner…and I thought it would fit well. XD
To the Left of Clarabelle's skirt: IT'S INDIGO INK!! (HURRAY!) It's been so long since I've drawn our ink manipulating hero!! Here she is laying on a stage floor surrounded by papers. (Ooohh!! A hint at her back storyyyyy) I had to mix colors for her hair. (WHY ISN'T THERE AN INDIGO COLORED PENICIL IN A 72 ROSEART BOX?! OH THE INSANITY!
To the left of Indigo's fountain pens: It's a random color test paper!! I have these all over my desk on the back of school band, choir, and musical programs…Random yes…but really, you can't put a picture of a character on a page like that.
Overlapping the coloring sheet: It's Emily the Corpse Bride!!! Here she is twirling in the forest amidst butterflies. <3 It's been so long!
Weird girl running through pictures: Who is that gorgeous vision?! (Oh wait…that's me. Riiight) Really shouldn't have outlined my eyes with black. My lines had gotten a bit lost while coloring and I touched up with Black colored pencil….(BIG MISTAKE) There I am…(but my hair is awesome.)
Below my knee: It's my fabulous Fanfic Charrie!! Megan!! I'm a sucker for blue hair. Here she is holding her fairy friend Mika. (Megan's a loveable innocent minded sweet heart. XD)
Behind my leg: It's Slike from my Fanfics!! (Can't see his face…but you know it's him by the hair. XD)
Below my foot: Air from the fanfics….goodness she looks axe happy. XD
To the left of Air: Squam and Ellie holding hands <3 Squash/Yam and Eggplant love!
To Air's right: It's Kunza from the Fanfics with his dragon Tamashii on his head. (Tamashii's in her little stuffed animal sized form at the moment.)
To the Right: It's Jack and SALLY!!! Look at them!! They're so sweet!!
Above them: James and Isabelle being sweet. As ALWAYS.
The Post It: A post it. XD

Enjoy!
General Info
| | | | |
| --- | --- | --- | --- |
| Ratings | | Comments | 10 |
| Category | Real People » Self | Media | Colored Pencil / Crayon |
| Date Submitted | | Time Taken | About a week or so. |
| Views | 1183 | Reference | Indigo's old references. |
| Favorites... | 2 | Keywords | Hurray, 150, pics, supergirlcomix, corpse, bride, NMBC, FW, James, Isabelle, Squam |
| Vote Score | 2 | License | Berne Convention |