A Halloween Beyond Dreams
A Halloween Beyond Dreams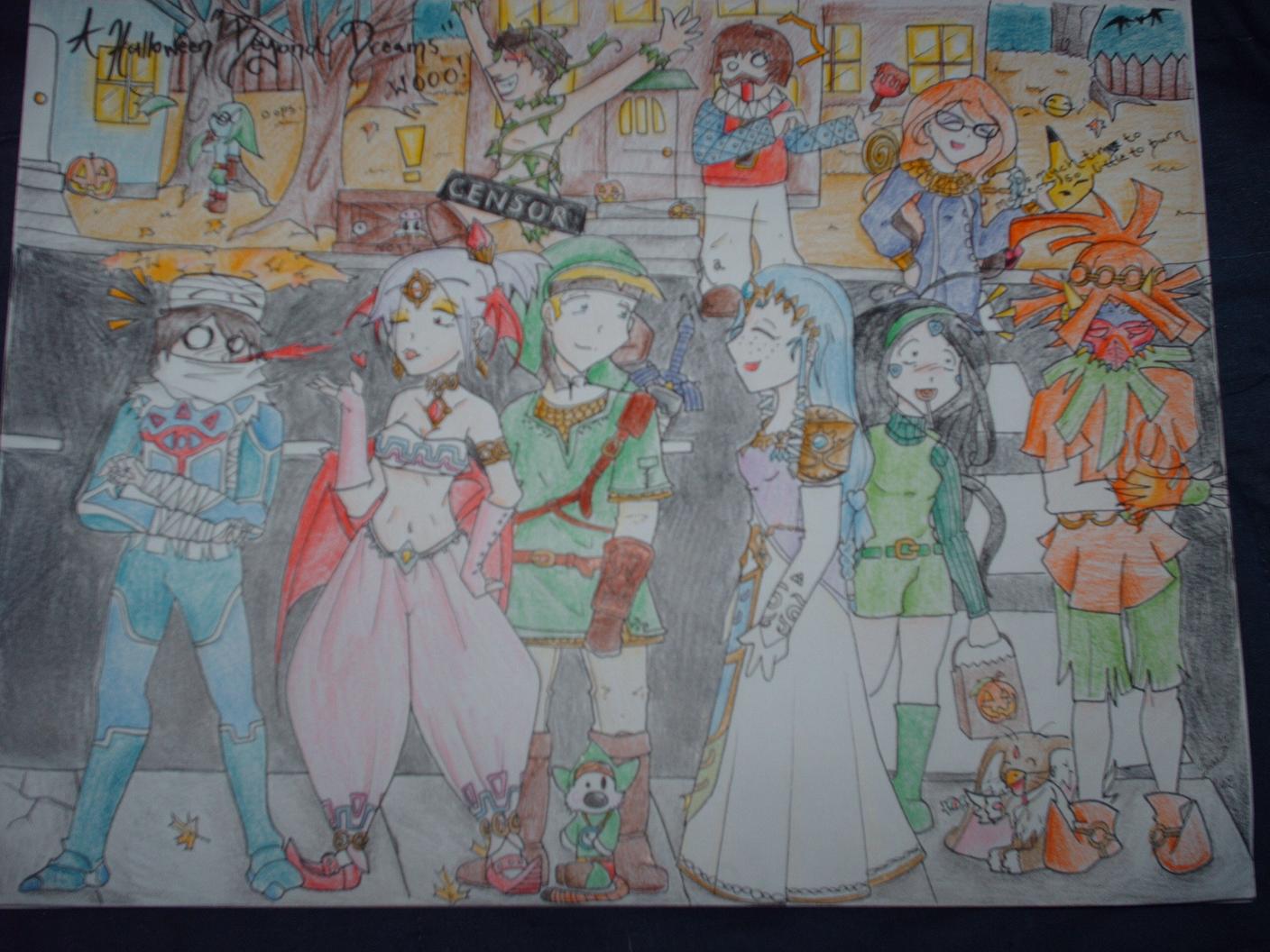 Description
This took about a month off and on I think. (YOU BETTER BE THANKFUL REAPER!)
This is fan art for a friend's fan fiction, Beyond Dreams. (Read it nows!) He asked me to draw his characters in a Halloween setting. I decided for my own enjoyment to do a Zelda theme. XD
Todd- Dressed as Shiek. Is Nose bleeding at the sight of Lilith.
Lilith- Dressed as our dear Spirit Sage, Nabooru. Is blowing Todd a kiss
Calvin- Dressed as Link. Looking at Sasami.
Hobbes- Dressed as Tingle. Feels like 'WTF'
Sasami- Dressed as Zelda. Laughing about something.
Skuld- Dressed as Saria. Freaking at Pepito's fiery issue
Pepito-Dressed as Skull kid. Has his arm on FIRE
Ze Cabbit!- Dressed as a cucco.

In the Background-
My friend Pepin- Dressed as Mikau. Has broken a window. X3
The Writer of the fiction- Sneaking in a Lon Lon Milk crate (a joke at his metal gear obsession). Is freaking at Fierro.
Fierro- Dressed as the Great Fairy. Is streaking.
Meine Lieb- Dressed as Gorman. Freaking out at the sight of Fierro.
Me!- Dressed as the Happy Mask Salesman. Is awesome. X3


I put in a whole lot of work folks. Show me some comment love?
General Info
Comments
7
Media
Colored Pencil / Crayon
Time Taken
About a month
Reference
The Internet, old pics, guides