Amelia WIP
Amelia WIP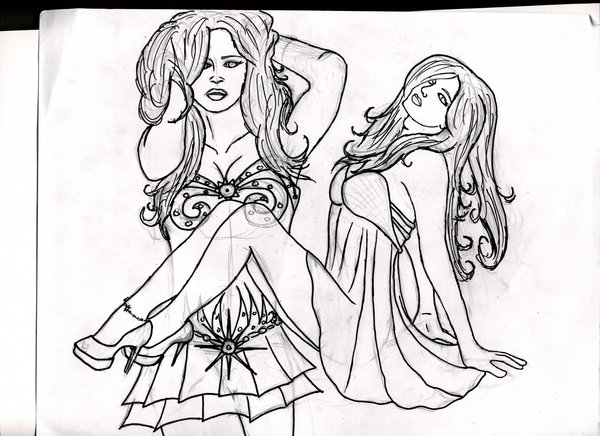 Description
So I decided to redraw one of my oc's in a style I'm trying to get used to. I think I'm getting a little better with the face, but I have a lot of trouble depicting emotions, and lips, I fracking hate lips. Hair too, I don't know how to draw the end of it, and you know what I love? You know how before you ink a picture, you check it thoroughly for any possible mistakes, but after you ink it you find a shoot load? Yeah that so happened here.

Overall though, I'm happy with the outcome, this took me a couple of days to get this far, I'm going to say at least 7 hours total, one would think after spending that much time on one picture, it'd look a lot better than this, but hey what can you do?

Anyways on to the picture, it's supposed to be Amelia, guardian of the sun, she's in a baby doll dress. I honestly wasn't sure what I was going to put her in though. It was tough, but I started sketching it out and I came out with this. Originally I was going to add leggings, but why not look as skanky as possible? ;o)

Sorry if it's confusing though, you know the whole montage thing, how there's two different Amelia's, the baby doll dress one, and then there's her in her battle suit.. or corset... or lingerie... it looked cool in my head D:

I used so many pictures as references, but now I think I'm ready to try something freehand, I've been practicing a lot with different poses and body types, I think I could probably come up with something creative.

Oh in case your wondering, my references come from photoshoots of the wwe divas, this one was actually based off of Maria Kanellis. To be honest, the only reason I use female wrestlers as references, as opposed to playboy (which I have used), is because they're ring attire. It's so creative and so unique, I just can't enough of it. A lot of them have different spandex outfits, but they're so cool and really sexy (not that I find them attractive) it just makes me think of the modern day superhero.
General Info
Comments
2
Media
Graphite pencil
Time Taken
6 hours
Reference
maria kanellis