GROT COMMANDER FUNGRIK FINALE MODEL
GROT COMMANDER FUNGRIK FINALE MODEL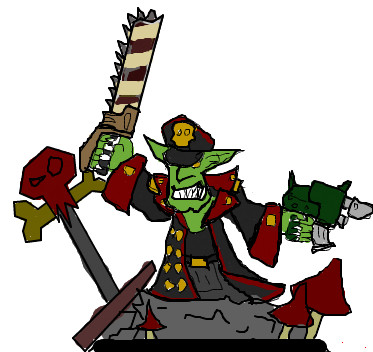 Description
THIS IS WHAT THE FINAL MODEL LOOKS LIKE

here after 3 days of digging to find good conversion pieces and good paper for a coat, IM FINALLY DONE WITH MY COMMANDER!
sorry for no real pic, but i scetched as close to the original as possible, and i decided that black and red coat and had looks way more badass than a purple and black. (and i dun have any purple paint)
so yeea he like killed a commissariat and took his stuff and now hes da boss.
sorry if anyone out there feels ripped off cause its red and black, but face it, most commissars dress in red and black so its just logical.