Nuthin Behind My Back
Nuthin Behind My Back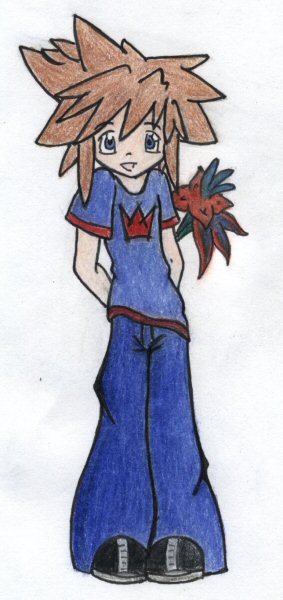 Description
Pardon the lack of a creative title.

This started out as just a fun test I gave myself to see if I could draw Sora's hair as it appears in the game and ended up drawing this (funny, most of the stuff I DON'T try draw turns out great, but the minute I start tryin' my talent hits the road... >.< ) Trust me, I had to restrain myself from hugging this drawing, it came out sooo cute!!! (even though my art teacher doesn't allow us to say the word 'cute'...XD complete story in my previous journals if you honestly want to know)
Oh, and just so you know, the fashion designer within me is about to bite my head off for the outfit but it won't tell me what the problem is!!!...Oh well, to late to change it now.
...His eyes didn't come out as blue as I wanted them to...
Just so ya know, his trying to hide the flowers he bought for Kairi from her...and he's not doing that great of a job at it.
How cute!
General Info
Comments
5
Media
Colored Pencil / Crayon
Time Taken
1hr
Reference
screencap of Sora