Sketch Dump 01
Sketch Dump 01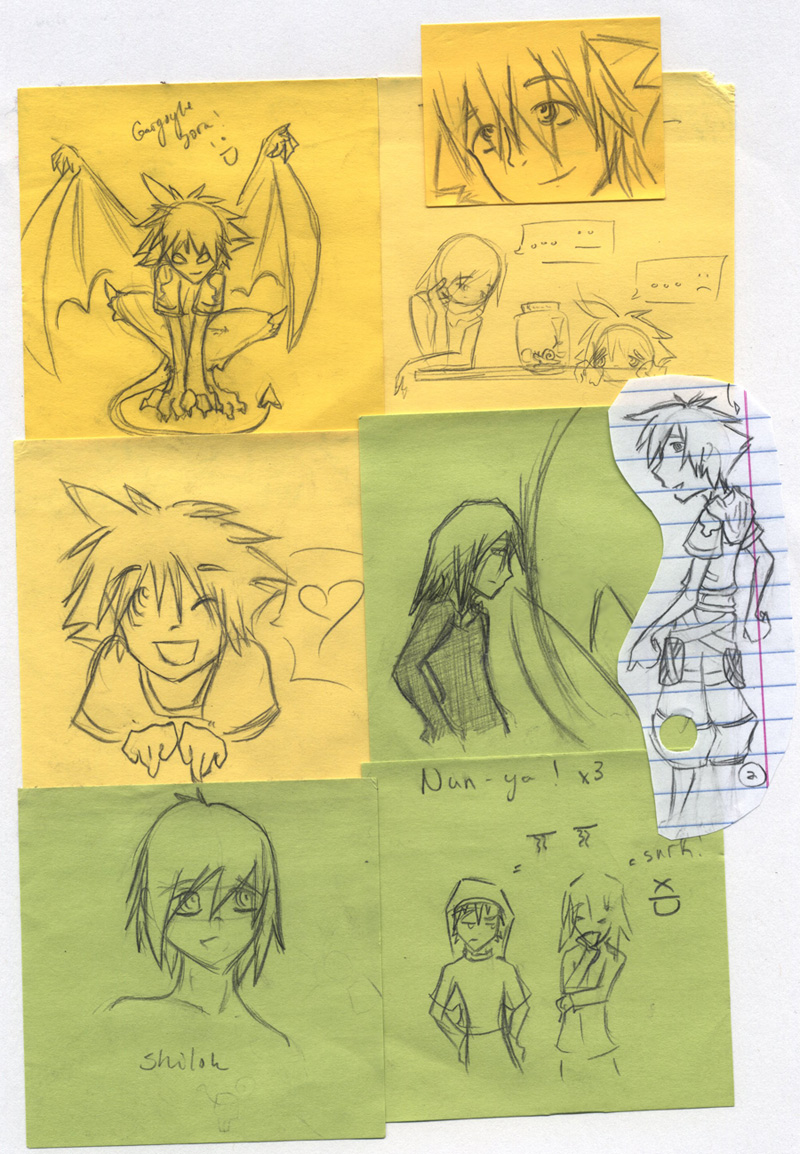 Description
See, Shoe draws ALL THE TIME...she just doesn't post her drawings all the time. By themselves they aren't really deviation worthy, but together they're purty cool. xD -shot- But now that it's summer, I've been scanning up a storm. So don't get your hopes up...you're going to be spammed by like, seven more of these.

So yes, in block one we have Gargoyle!Sora.

Block two is a pic of Sora's face that I was proud of for some reason...

Block three is Riku and Sora as kids with a snail in a jar...x3

Block four is...well...Sora being Sora....

Block five is Riku being emo over Sora (hence the eggy thing) His arm looks so FAT. D: NOT COOL.

Random notebook paper off to side is a disportional Sora that I am VERY proud for some reason...

Block six is Shiloh, my oc (from ACFM, I finally got her introduced [ch4] so now I can put her pic.)...The eyes aren't my style anymore but I'm still VERY proud of the hair. -shot-

Block seven: Ahahahahahahahahhahaha... That's Sora dressed as a nun and Riku dressed as...um...A priest maybe? I couldn't help myself!!!!! LOL, Nun!Sora!!!!! -shot-

Oh, and yes. All of these (save for MarginDoodle!Sora) are on sticky notes that I find lying about my desk...Mo sticky notepad is safe from my doodling wrath. D:
General Info
Comments
5
Media
Graphite pencil
Time Taken
Pffft, like 10 sec a peice.
Reference
none