CONTEST!!!111!1one11!11fish!1!!!
CONTEST!!!111!1one11!11fish!1!!!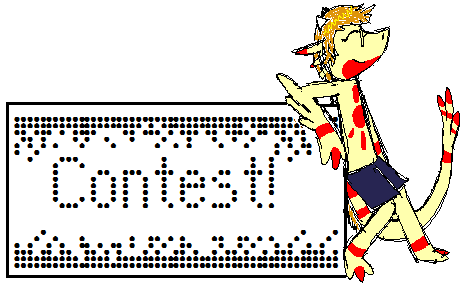 Description
Yes... I'm holding a contest. To get your attention, PRIZES FIRST then what you need to do.

1st Place: Reserved adoption (creatures of your choice), a pixel trophy, AND a Photoshop request!

2nd Place: An MS Paint request (with shading) and a pixel trophy.

3rd Place: A pixel trophy.

Now, you're either wondering what you need to do to get these lovely prizes, or you're hungry and wondering when you get to eat.

For this contest, you need to draw CORALISKS! Two of them, to be precise... Blue, from my picture "Blue the Coralisk" (don't forget his horns like I did), and the female Coralisk, Tessie, in this picture. Cute puppy love between the two is encouraged, but nothing beyond, say, a friendly lick on the cheek or tug on the tail. All styles accepted, from chibi to cartoony to realistic to anime.

Pictures will be judged like this:
Effort: -/20
Quality: -/10
Creativity: -/20
Total: -/50

Entries:
Hamstar27- E: 15/20 Q: 5/10 C: 15/20 T: 35/50
RubySpider- NOT DONE
Kirbyluva11- NOT DONE
Submit entries in a comment here or on my profile! You can submit multiple entries, but one person can only get one prize.

Deadline: will be set after 3 entries are submitted.
General Info
Comments
23
Media
MS Paint
Time Taken
A few seconds
Reference
My brain