Like Lightning
Like Lightning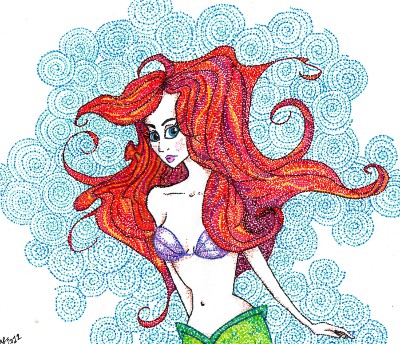 Description
"Believe me, Grim, when I find the right girl, I'll know. Without a doubt, it'll just-BAM-hit me. Like lightning..."
Ariel, from Disney's Little Mermaid being her darling self.

Decided to break out the good old markers and dot away.
The paper is a little smaller than 8 1/2x11 and the markers are your standard small tip crayolas. There are absolutely NO lines here. It's pointillism and those are all dots. Pointillism is my favorite technique. (Even more than crosshatching!) I won first place at my county fair for a pointillism landscape I did in 4th grade and I've adored the process ever since. It's super relaxing and rewarding for me, I just never do it because it takes so much TIME.

But this is what spring break is for, am I right?