Bios of Oddwinks D:
Bios of Oddwinks D: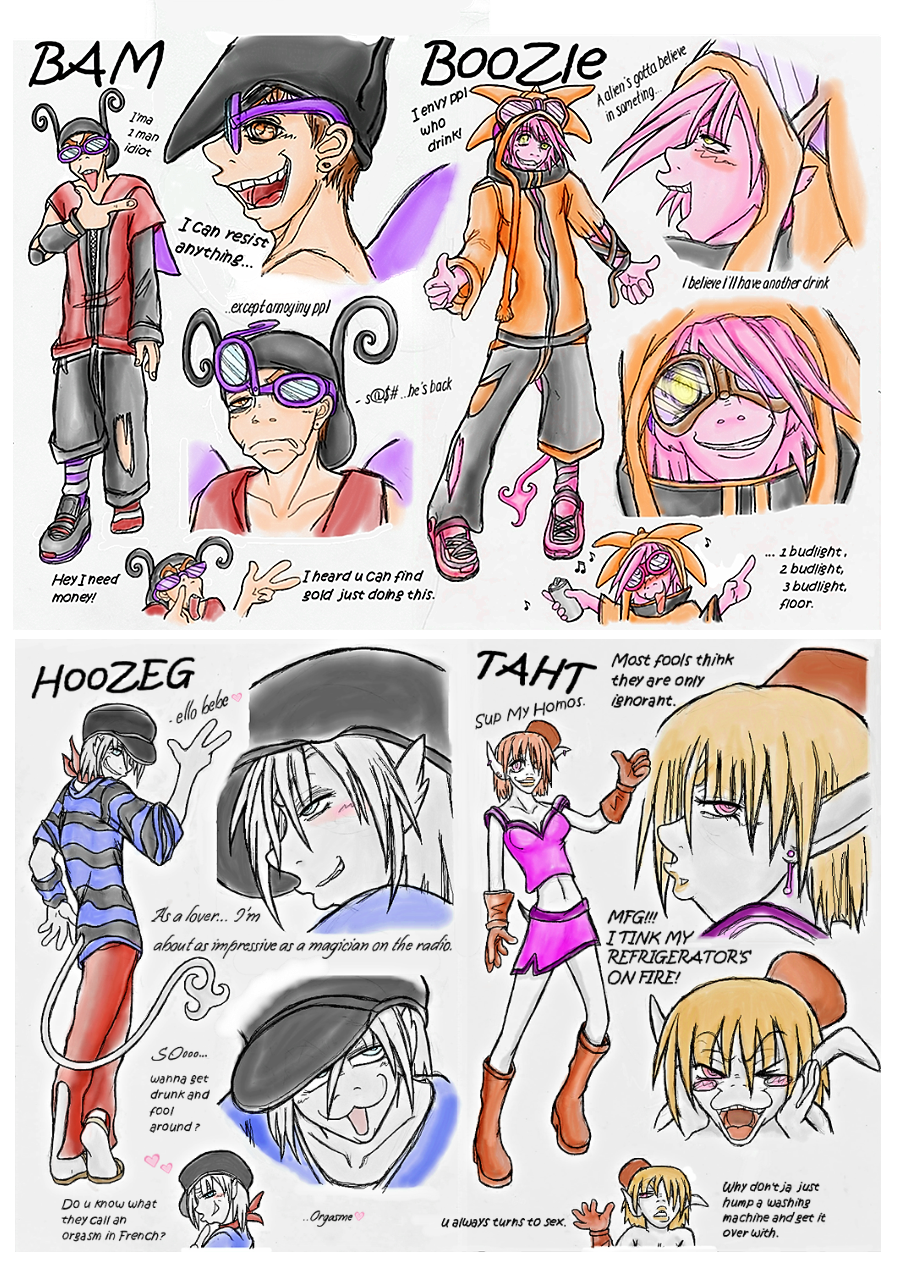 Description
...Bam gold doesn't really come from ur nose.D:
Bam:
*pickin nose* "uh"
Booz:
*passes out*
Zeg:
"Will a washing machine really please me?"
<//D
Taht:
......."yeeeeeah" *gives quarter*
Zeg:
*squee!*
Some Info
of my charies...hmmm lets seeee.
Age
: (BAM)18 (BOOZ)19 (ZEG)18 (TAHT)17
Gay,Straight or Bi?
(BAM)Straight; (BOOZ)Varys; (ZEG)Gay/Bi; (TAHT)Straight
Likes
:
(BAM):
Blowin up shoot, causing misfortunes 2 innocent bystanders, his odd fashions,annoying ppl,etc
(BOOZ):
Beverages, Beer, Budlight, Milerlight, Tequilas,(u get tha picture), being annoying, overdrinking, getting drunk, partying!xD
(ZEG)
: BOOZLE!, Boozle, Booz(alcoholic drink), Booz(Not tha alcoholic drink), Boozle, boozle, annnd oh yeah being perverted, talkin dirty and hey likes 2 dance!xD
(TAHT)
: BAM!, being flirty, acting silly, causing a wreck in tha wurld, annoying Zeg, etc.
...I'm tired I don't wanna type anyMO! Hope u like tha doodles!xD
Evryone (C) ME
IF THA IMAGE WON'T SHOW GOOO 2 THESE 2 LINKS 2 SEE THEM![/

size]xD
http://thomast67.deviantart.com/art/BAMBAMBooooz-62517813
http://thomast67.deviantart.com/art/H00Z-TAHT-oVR-Tere-62979502
Hope u like ya'll.
General Info
Comments
7
Media
Digital drawing or painting
Time Taken
Reference