Dante the Demon Killer animation notes
Dante the Demon Killer animation notes
Dante the Demon Killer animation notes
by
truegamer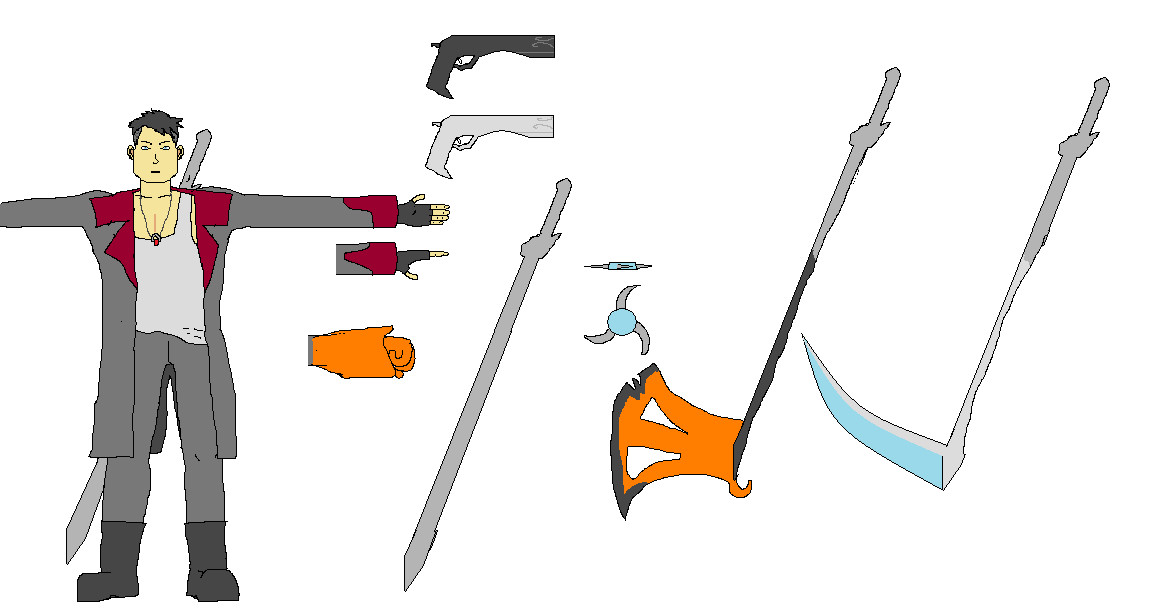 Description
I finally got around to starting this.  Notes anyways.  (I ended up back in MS Paint, it's a strange feeling now that I'm more used to GIMP.)  Dante the Demon Killer, self titled in DmC: Devil May Cry.  I'm playing with the idea of having this Dante fight with Dante the Devil Hunter from DMC4 specifically.  I've been playing Both DmCDE and DMC4SE so it seems like a fun match up.  The first thing you may notice is the lack of Revenant (shotgun) and Kablooey (Tazer turned demon dart gun). 
 To even the playing field I took away the last two weapons both Dante's aquire in their games.  Dante the Demon Killer looses his alternate guns, because Revenent is underutilized and Kablooey is overpowered even for DMC standards (in my opinion, though it is slow).  These are also the last two weapons aquired, so I'm putting both characters about half way through their games. This Dante has Rebellion(sword), Ebony&Ivory(guns), Orisis(sythe), Arbriter(axe), Enrx(fist, basically Ifrit from DMC1), and Aquila(chakram).  All shown suprisingly.
  Dante the Devil Hunter looses Pandora (another overpowered 'gun') and Lucifer (which though well loved by other people who jam DMC4 Dante in fights, has to be removed, considering Pandora was taken away).  The other Dante has Rebellion(sword), Ebony&Ivory(guns), Coyote-A(shotgun), and Gilgamesh(body armor, much like DMC1's Ifrit&DMC3's Beowolf). 

I have now Tied my comments with my pictures.  I'm very excited as my next post will finish my personal challenge.  It will be of my OC Sylis sparring with my OC Reyah.  (Or it may be Dante the Devil Hunter animation notes, depending on which gets finished first)

Anyways as always enjoy.
General Info
Comments
2
Media
MS Paint
Time Taken
~1:30
Reference
DmC: Definitive Edition Cover