Dante the Devil Hunter animation notes
Dante the Devil Hunter animation notes
Dante the Devil Hunter animation notes
by
truegamer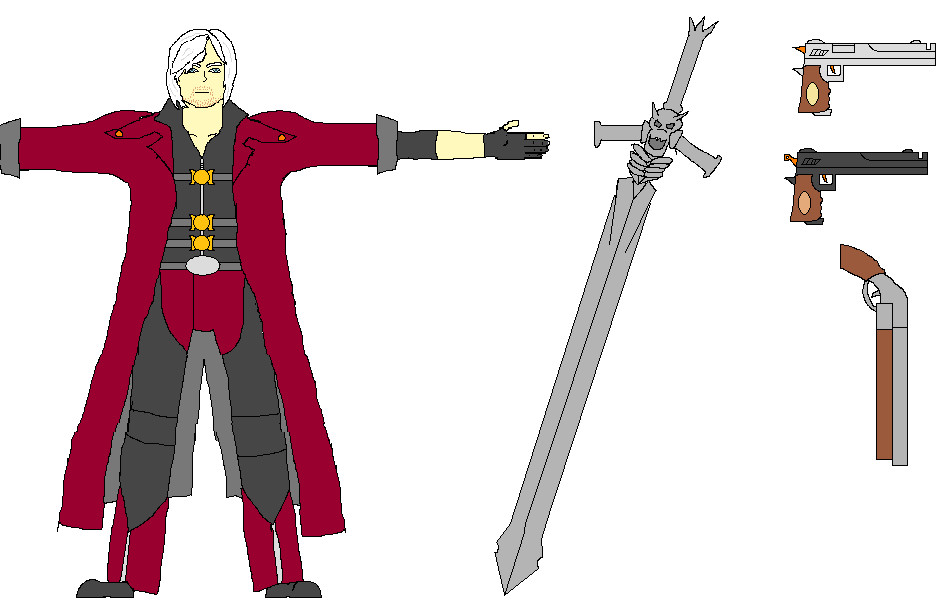 Description
The moment probably only I have been waiting for my pictures here now outnumber my comments. 

This is the other main element of my Dante vs Dante animation.  This is DMC4's Dante whoI am refering to as "The Devil Hunter."  This Dante is a bit taller, has less weapons (at this point, other collections from DMC1&3 don't count for my fight).  I am going to be including Gilgamesh, but I didn't have a reference handy, so I thought I'd toss out this mostly completed bit of notes.  My reference was the DMC4 Instruction Manual (sounds firmiliar huh?)  so I only could imitate started weapons.

I noticably dumbed down his coat, belt and weapons to make it more condusive to my style of animation.  With the normal form of his coat I would have to establish 4 main angles just to start just for the rotation of his arms,  This way I can ease up on the arm rotation and focus on hand rotation.  Same comes up for weapons.  

Just for fun I used the animation program "Stykz" to demo some of my concepts.  It gets rid of all the tedious details and just uses stick figures to animate, which proves very useful.  I already have 200 frames for that animation, in only about 2-4 hours between original and touch up.  (My 3rd animation I worked on in my main animator TVPaintPro is only 175, after over 24 hours of work, though it is far from done and has been abandon).  So this upcoming project will likely take a lot of time effort and more frames then I've ever made before.      
General Info
Comments
2
Media
MS Paint
Time Taken
3 (distracted) hours
Reference
DMC4 Instruction Booklet