Reyah&Sylis (Broken Mirror)
Reyah&Sylis (Broken Mirror)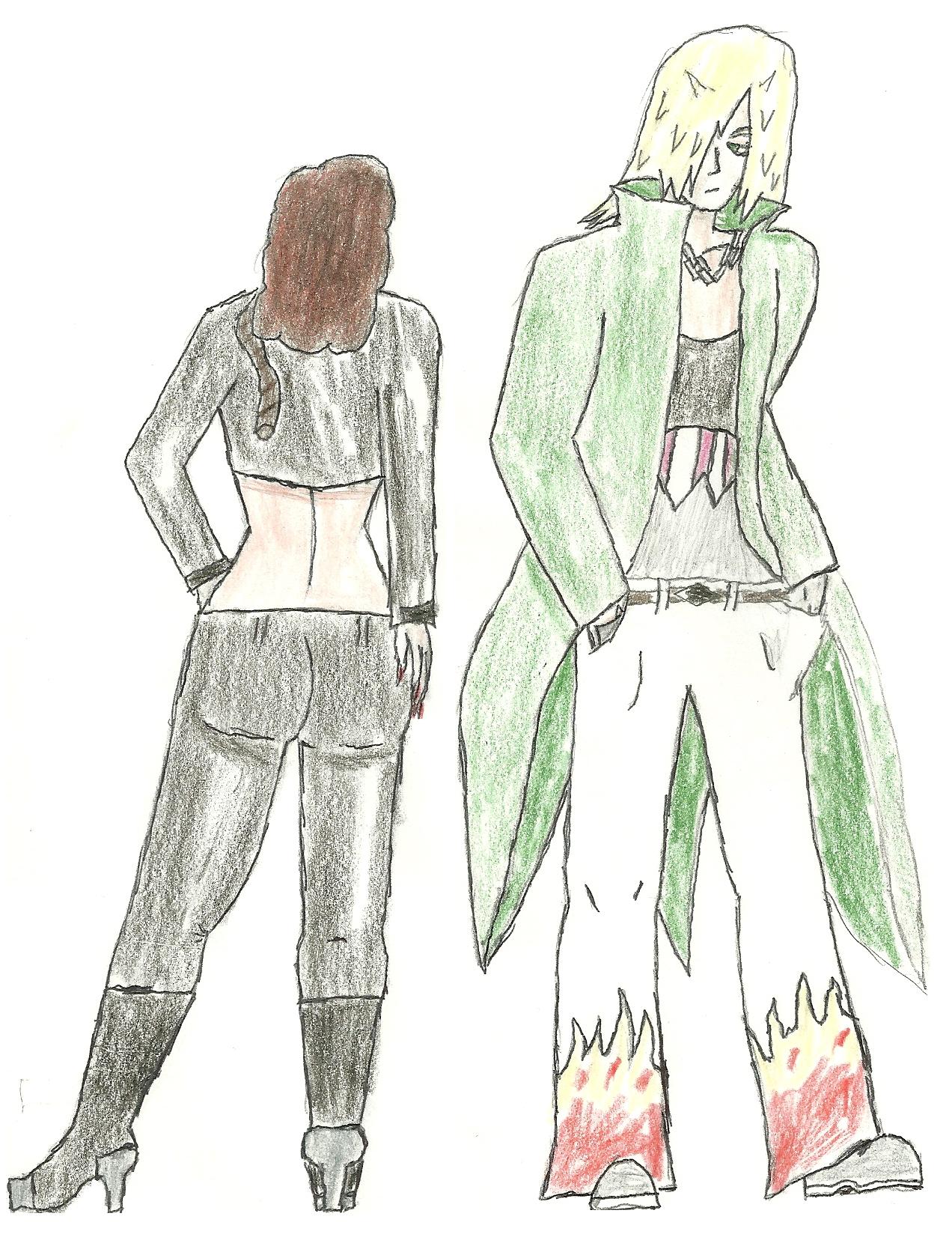 Description
Well this is my 101st post, so 100 was also of this pair.  That's exciting.  101 and posts to FAC.

Jandis suggested I flip my image of Sylis&Reyah so Sylis could be seen from the front and Reyah could be seen from the back.  Though the suggestion was to flip and trace and....do stuff with the computer, I just grabbed a new sheet of paper, drew the characters flipped around and....Got this.

I referenced the original, by putting it up to a window so I could see it backwards, I could have flipped it in my head, but it's probably good that I got a little sunlight...sort of.

I will also be posting a full color version of the original with a background in about a week.  ]

Redesign Fun Facts;
     The reason Sylis was facing away in the original was because I hadn't decided on the shirt he would wear. 
    Reyah's redesign is predminatly black though her original design had her almost entirely in blue.  In Endless Reflection Sylis' companions almost all wore blue.
   Sylis and Reyah's guns are no longer equiped to their bodies, they are now embedded in them.  With the exclusion of Chain.  Sylis' guns (Heartless&No Soul) appear on the back of his hands when he is not weilding them.
  Early in ER:Broken Mirror, Sylis has trouble understanding others.  Sylis exclusively speaks English, it was the language he was born with.  Reyah is a skilled English speaker but a native Romanian speaker, in the begining of ER:Broken Mirror she loses her ability to speak English (It is not regain but Sylis learns to interpret it and it is put in English for the reader).  This also happens with Demonspeak, which has no firmiliar letters or sounds for Sylis, but he learns it as well.
General Info
Comments
2
Media
Colored Pencil / Crayon
Time Taken
An Hour?
Reference
Sylis&Reyah (ER: Broken Mirror designs)