Apathy Trio (Sylis' Guns)
Apathy Trio (Sylis' Guns)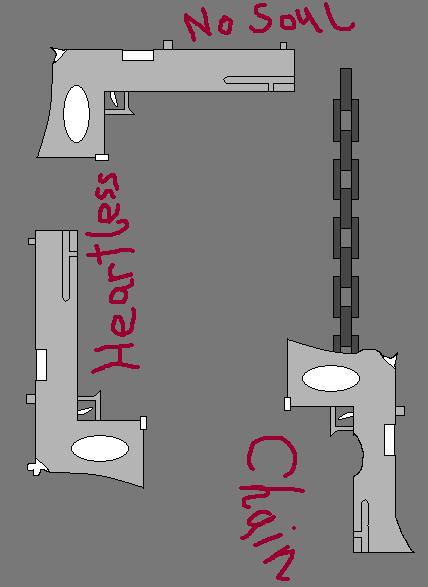 Description
This was done really quickly on paint.  But I thought I'd finally have focused image solely on Sylis' guns because I've taken way more time that I should have designing them, even if they still don't look that great.  I guess this was an inner cover in book 1 so it can still be a cover.

This is the final version of his guns, they advanced through ER two of his first unnamed set broke and were replaced and these were modified lightly for looks. The colors on the guns are always a middle grey shade.  The chain on Chain has changed from a lighter grey to a dark grey or black, it has even changed from rounded to angular links.

Sylis came up for the name because he never did any of his own work on the guns, often leaving them to friends despite having a far deeper caring for the guns then any humans.

Edit: I did this so quickly I forgot to remove the white plate from the handle on Chain.  Chain was never giving the visual modification.
General Info
Comments
2
Media
MS Paint
Time Taken
30min (With Triforce Hero's too)
Reference
Endless Reflection 2: Remorse