Henrick Skillcard
Henrick Skillcard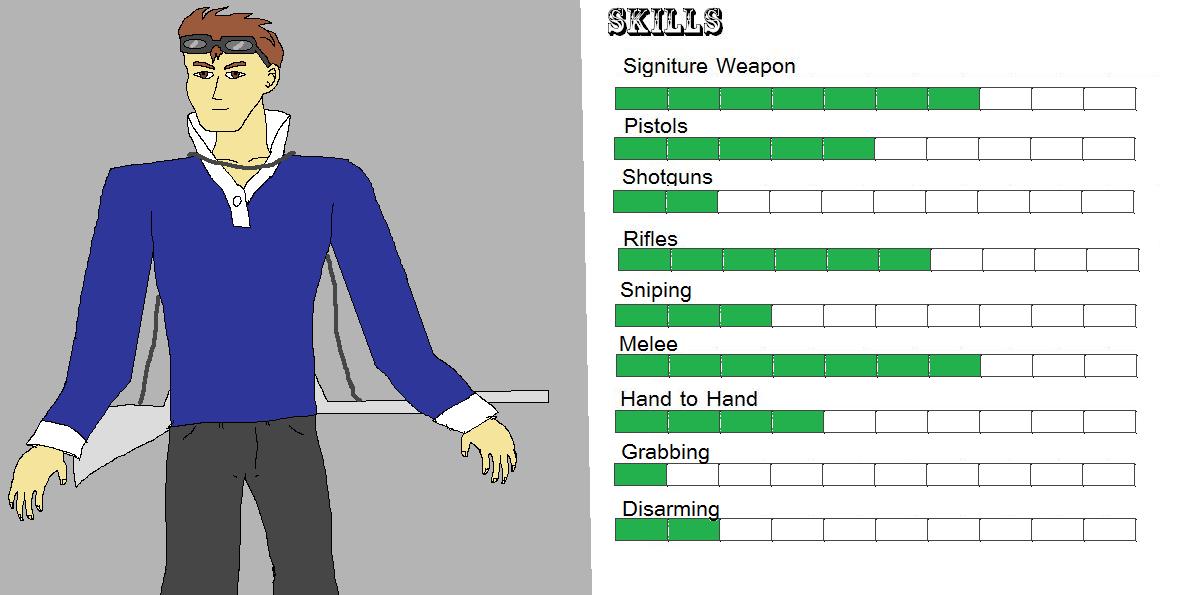 Description
This was a concept I thought would be fun to do with a good amount of my Endless Reflection Characters.  Giving out skillcards and skill ratings with each type of weapon or combat skill.  The card is in essence reletive to each character.  But all the cards are going to be reletive to each other, 5 blocks being the Average Skill of the Underground Residents of San Issac.  I must mention Signiture Weapon is a key element for all characters, these are the weapons the characters carry the most or consider to be their primary weapon.  So of course they are the most skilled with this weapon no matter what.  That is why the Scale is based on the averages of all Residents rather than reletive to their own skills.

This character is from my comic Endless Reflection, he appears periodically as a support character.

Name: Henrick (AKA Rick)
Age:22
Gender:Male
Height:6'1
Weight:80kg
Combat Attitude: Sarcastic
Signiture Weapon: Raspberry Lollypop (A custom, hair trigger, assult rifle he has connected to a wire he wears around his neck,)
Fun fact: Henrick has an intense interest in robots and robotics.  Late in ER2R he travels with Silver a masterfully built and adaptable robot that appears like a human female.  The team finds and destroys all other machines made by Silvers creator.
General Info
Comments
3
Media
Unspecified
Time Taken
40 min
Reference
ER2R