Sylis & Reyah (Viewtiful Style)
Sylis & Reyah (Viewtiful Style)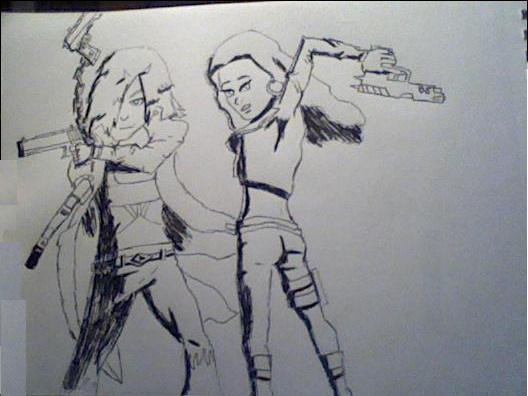 Description
I wasnt sure how to categorize this one. These are my characters, but they are posed like Dante and Trish in the Viewtiful Joe style.  I love the intense shading of Viewtiful Joe, and Dante and Trish were easy to switch out for Sylis and Reyah.  If you've followed me at all you are aware I'm a huge DMC fan.  
I may work on this more with more shading (no color is my plan) and a background but for now I am happy with this outcome.
I referenced a great image that I now use as my desktop, got it off of google, shoulda looked where it was really from.

Sylis Graves (Left)

Reyah Jett (Right)

I was also thinking of making a flashgame that was a tribute to Viewtiful Joe with these versions of S&R, but then I remembered I cant code anything and how many animation frames that would take...  But it could be fun to draw and redraw these two this style.
General Info
Comments
2
Media
Ink or markers
Time Taken
Too short....
Reference
My computer desktop