Endless Reflection Generations: Reyah
Endless Reflection Generations: Reyah
Endless Reflection Generations: Reyah
by
truegamer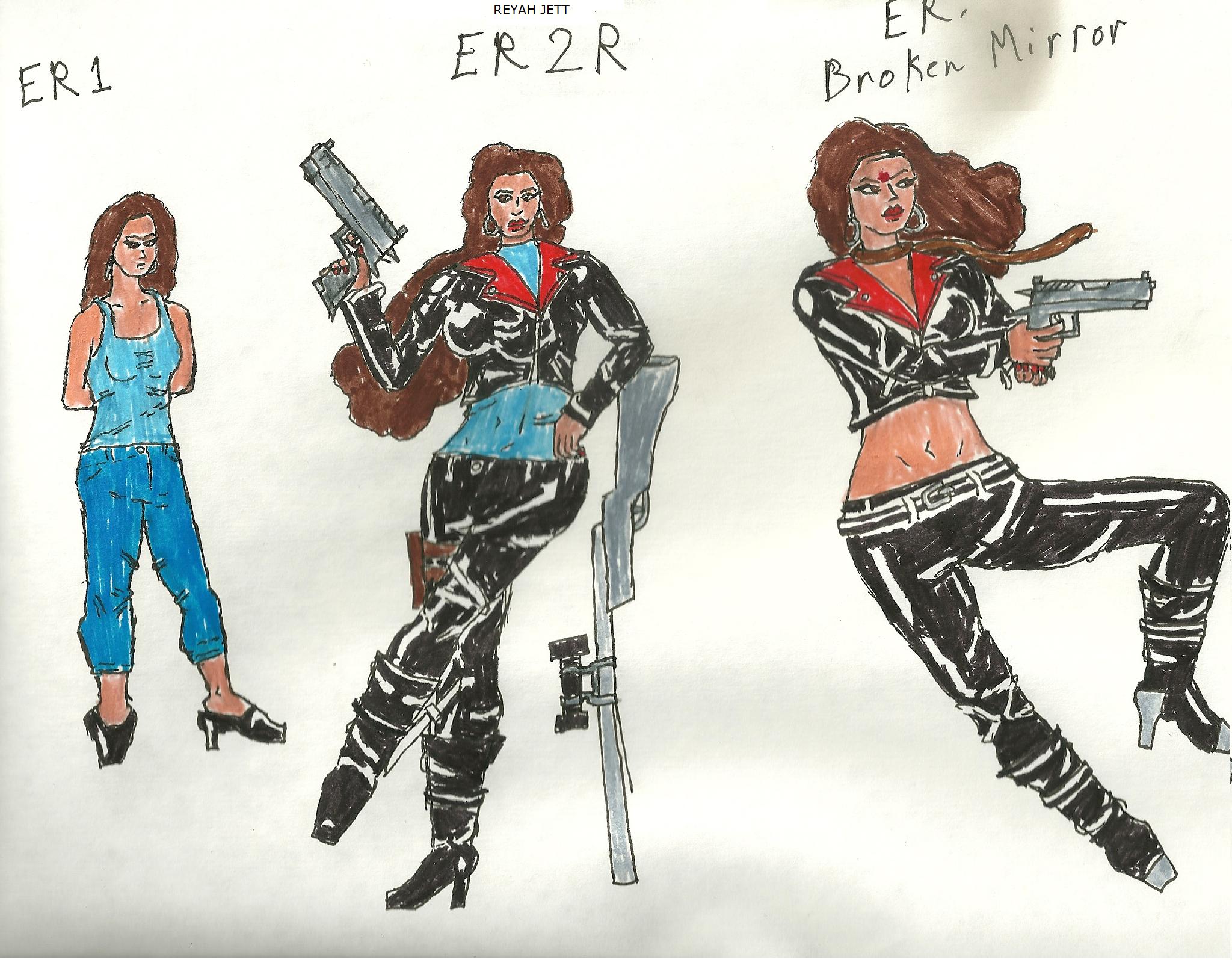 Description
This is the beginning of a series of sketches that are intended to show the various forms of my characters from the Endless Reflection Series.  The images will be separated between ER, ER2, ER2R and ER:Broken Mirror. ER2R is the second half of Book 2 where 2 years have passed since the first half of book 2.  The final image in this "Generation" (seemed like a fitting name) series will be Sylis as he is the protagonist.

Reyah Jett(you can get a better bio of her in other drawings of her in my gallery)

Endless Reflection
Species: Human
Age: 17
Design notes: Nothing that can't be figured out in the image
Story Status: Support Character

Endless Reflection 2
Excluded (age would be 19)

Endless Reflection 2 Remorse
Species: Human
Age: 21
Design notes: Her knife on her boot is supposed to have a yellow hilt, but I forgot to color it in, she also keeps a machine pistol in her right coat pocket.  Blue was the color of Sylis' allies in Book 2 though it was never openly disclosed.  This is why she wears the blue shirt under her leather jacket.  Also ER2R was done in color and I was running out of the Flesh colour so I edited all the characters to have minimal skin exposure (this will be evident in future ER;Generations sketches)    
Story Status: Key Character  

ER: Broken Mirror
Species: Lost Soul
Age: 21/Deceased
Design notes: The red spot in the middle of her head is a bullet hole (maybe I should rate this for Violence, but it doesn't look that graphic).  She only has Noapte, her signiture gun and a knife she got as a gift in as opposed to the multitude of weapons she opted for in ER2R.  Reyah had no particular ties to her blue shirt from ER2R so she does not have it with her in Hell.  Her holster no longer exists as her gun is tied to her soul and does not need a physical means of transport.
Story Status: Protagonist

If you read all that, thank you, I appreciate your interest.
General Info
Comments
3
Media
Ink or markers
Time Taken
Reference