BoW Link
BoW Link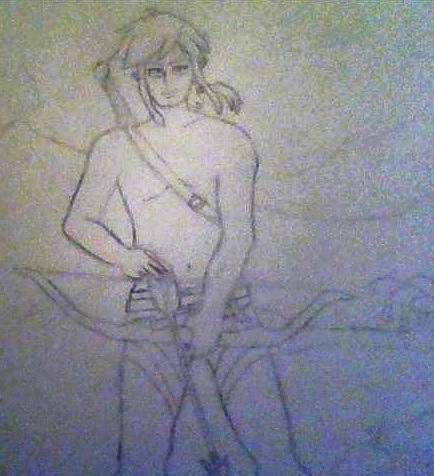 Description
I just started up LoZ:BotW and I just love the game.  I really wanted to do some fanart with this Link.  I personally have challenged myself to a topless challenge, and I am intent on beating the entire game without ever putting on a shirt.  This was difficult at first in the icey regions when I didn't know that carrying a torch could keep me warm or eating spicy food.  This is how Link looks at this point in the game for me, some Sheikah pants, a bow and a sword.  

I've noticed character's taking photos in game has become a big thing.  For quite some time I've been thinking about doing a 'Last Three' image where I crossover afew games.  But after Finishing Gravity Rush 2 and starting LoZ: BotW I really want to draw Link and Kat taking photos of each other with their distinctive cameras.  It works really well because of the art style behind both games to boot.

Lastly, I wish this turned out better, taking a photo with my laptop's camera does not seem to be the way to go to get a good image. Maybe I'll color it, pen it or marker it at some point but I'm more likely going to work on the aforemention image as well as my Endless Reflection Generations Series.
General Info
Comments
2
Media
Graphite pencil
Time Taken
too short
Reference
Legend of Zelda Breath of the Wild game screen